When in need of a quick yet amazingly toothsome dish to amaze my family and friends, Bisquick impossible quiche is usually the first thing to come to my mind. Making it is child's play, while enjoying it for a Sunday brunch with my loved ones makes me as joyful as any babe.
As for the name "impossible", some people attribute it to the fact that this dish requires no separate bottom crust. Instead, the quiche forms its own crust while it is being cooked, a false yet fantastically delicious one.
But enough talking! You must be more interested in sinking your teeth into this rich, savory goodness than learning about its name, right? Just scroll down and discover this no-fuss recipe!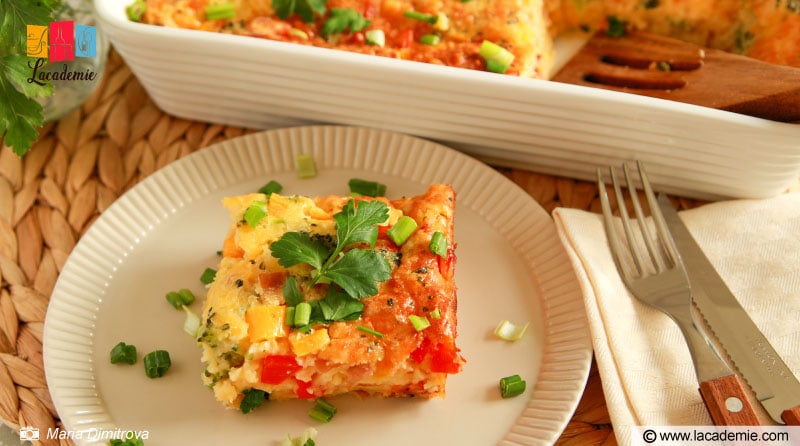 Tools
Here is a comprehensive list of kitchen tools you should have to prepare Bisquick impossible quiche. While you don't have to use all of them (for example, the kitchen turner and silicon spatula can replace each other), having these kitchenware items will make the task easier.
Casserole pan: for baking the quiche in the oven. A medium-sized one will do.
Basting brush: for brushing the casserole pan with oil before pouring the mixture into it. Alternatively, you can use cooking spray.
Nonstick skillet: for sautéing the onions and ham. I cook with a medium-sized skillet, but feel free to use any size you have in the kitchen.
Kitchen turner: for stirring the ingredients in the pan as well as serving your quiche.
Silicone spatula: for mixing the ingredients for the quiche.
Large bowl: providing the space for you to whisk the quiche ingredients.
Whisk: for beating the eggs with the milk.
Medium bowl: providing the space for you to whisk the eggs and milk.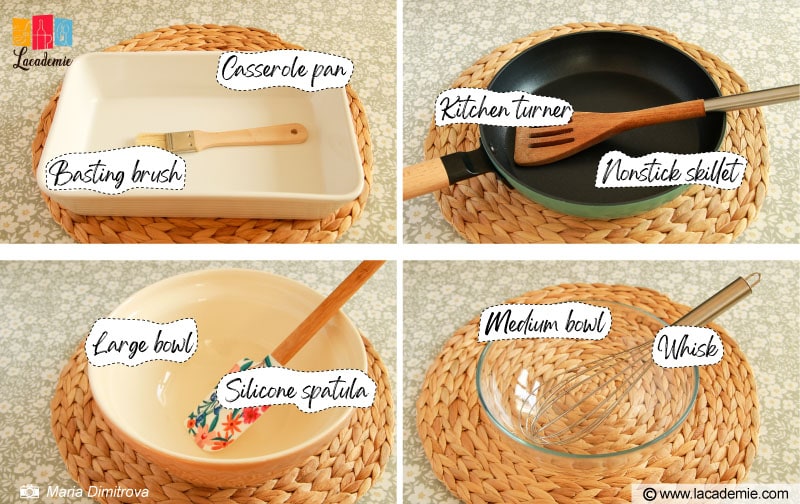 Ingredients
The beauty of the best Bisquick impossible quiche is that it can help you deal with leftovers as well as ingredients that have stayed in the fridge for too long. Of course, you're welcome to use fresh ingredients, too.
Bisquick baking mix: This is a ready-made mixture that is sold in packets in stores, but you can make your own Bisquick baking mix. Its main ingredients are flour, baking soda, sugar, salt, and cold butter.
Milk: I use 3.6% fat percentage milk for this recipe, but you can use skim milk to lighten this recipe. Plant-based milk, such as almond milk, is also a great substitute.
Eggs: Only fresh eggs are good enough for this quiche.
Meat: You can use ham, bacon, or sausage as the main source of protein. I choose the first one for this dish.
Cheese: While I prefer freshly grated Cheddar cheese, you can choose other hard English cheeses, Parmesan, or even semi-soft cheese like mozzarella.
Vegetables: This is the most versatile part of the recipe: just go with your favorite veggies. Mine are green broccoli and colorful bell peppers for the most attractive appearance. Other suitable vegetables for this recipe are spinach, tomatoes, shredded zucchini, mushrooms, etc.
However, note that high-moisture or thawed vegetables can release water during the baking process, causing the quiche to be soggy or undercooked in the middle.
Therefore, drain the veggies carefully if you want to cook with frozen broccoli or spinach. For fresh veggies, cooking them lightly to take away some water before adding them to the quiche is a great idea.
Onions: Caramelize fresh yellow onions in the skillet along with the ham: they will add a very good flavor to your quiche;
Vegetable oil: Olive oil is my classic ingredient, but sunflower oil, canola oil, and other types of neutral oil are also suitable. You will need the oil to sauté the onion and ham in a pan as well as to grease the casserole pan before putting the quiche mixture in it;
Spices: You can flavor the quiche with salt and ground black pepper.
Seasoning: Feel free to sprinkle your Bisquick impossible quiche with fresh parsley and chopped green onions.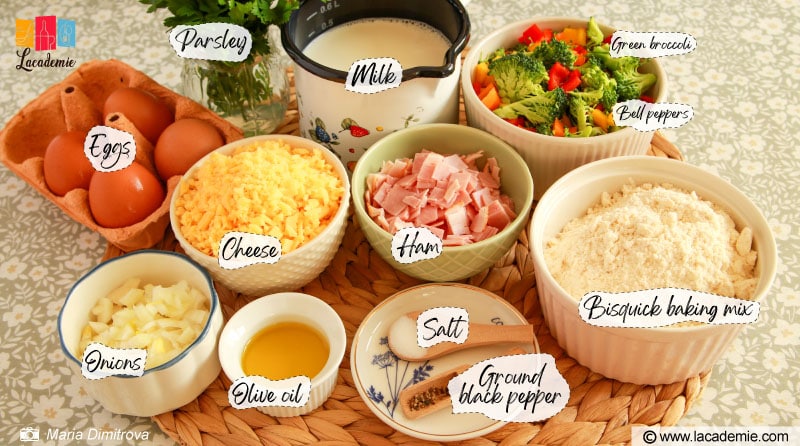 Instructions
Here is the part you're waiting for: how to make the richest and tastiest Bisquick impossible quiche. In less than an hour, this soft and juicy treat will be yours to enjoy!
Step 1: Prepare The Onions And Ham
Heat up the skillet with some olive oil on medium-high heat. Pour in the chopped onions and ham, then saute for 5 – 7 minutes or until you detect a nice oniony smell.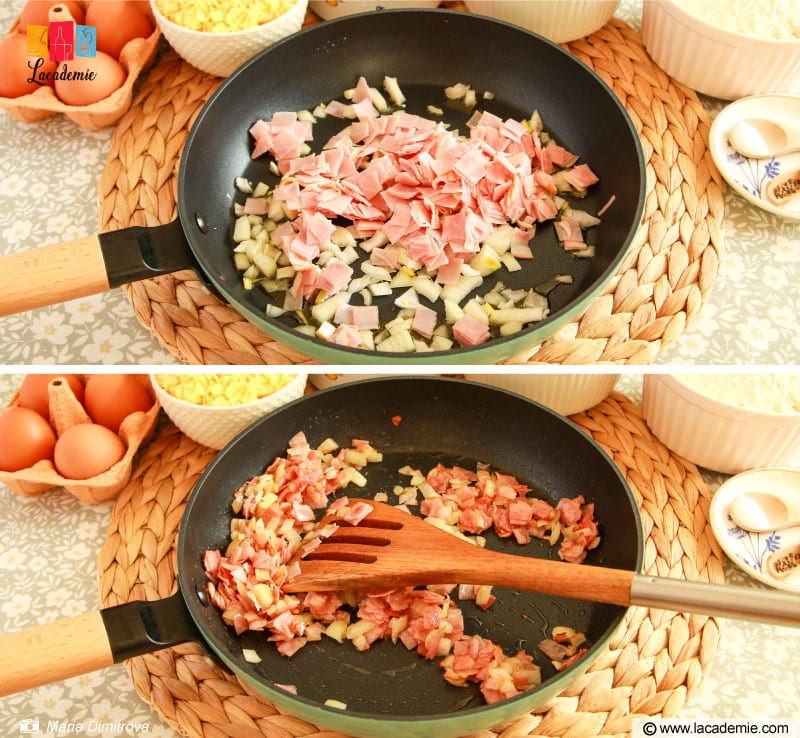 Step 2: Prepare The Quiche Mixture
Preheat the oven to a medium temperature (350°F).
In a medium-sized bowl, beat the eggs and the milk well with a whisk.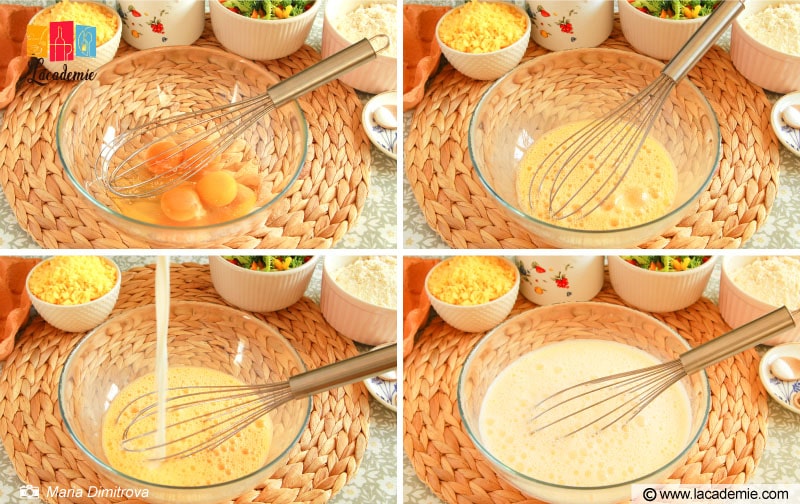 Put the Bisquick baking mix, the egg mixture, salt, and ground black pepper in a large bowl. Mix well with a whisk.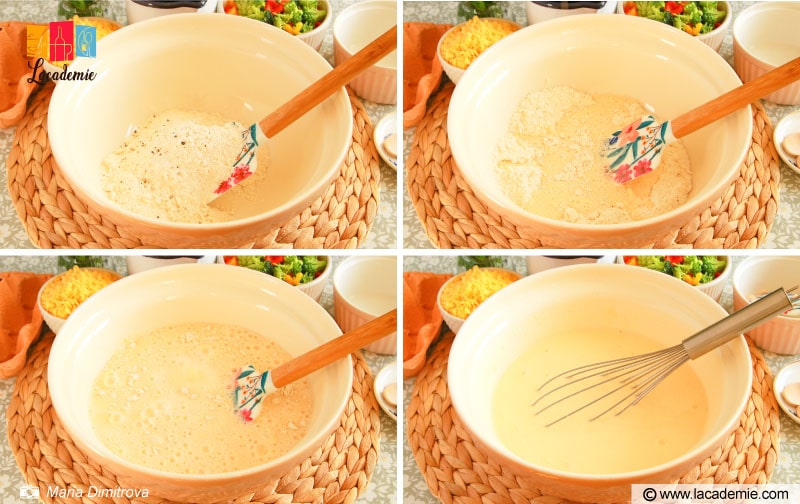 Add the vegetables, sauteed ham, caramelized onions, and two-thirds of the Cheddar cheese to the large bowl. Use a silicone spatula to mix everything thoroughly.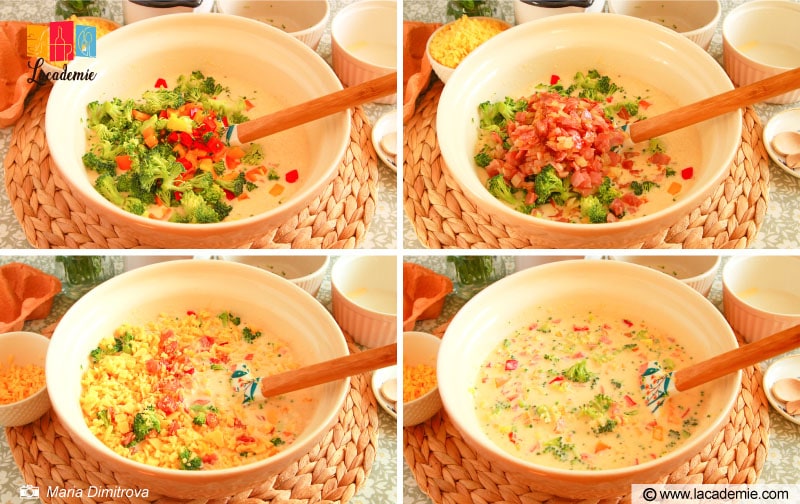 Step 3: Bake The Quiche
Brush the casserole pan with olive oil before pouring the quiche mixture into it. Top with the remaining Cheddar cheese. Bake the quiche for about 40 minutes in the oven.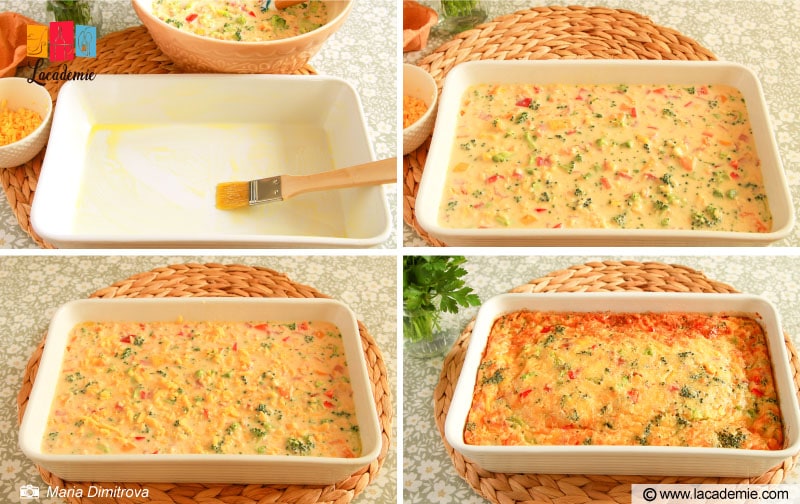 Let the quiche cool for about 10 minutes. Sprinkle it with green onions and parsley before serving.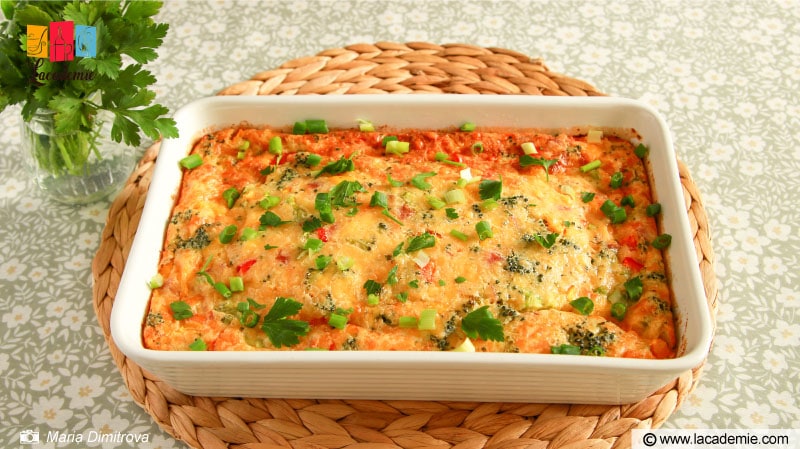 Storage
A refrigerated Bisquick impossible quiche can last 3 – 4 days as long as you keep it in an airtight container. How about freezing it? That is possible, but first, you need to cut the quiche into small slices to save space. If possible, give them a short stint (like a few hours) in the freezer.
Otherwise, you can go ahead and wrap the slices with aluminum foil or put them in a resealable bag with date labels. Your quiche is now fit for being frozen. They can stay good for 1 – 3 months. You can reheat your quiche from frozen by baking it in the oven at 350°F for 20 minutes or so.
Is It Possible To Resist This Bisquick Impossible Quiche
I hope you will have great fun with this easy recipe. Let the oven do most of the job, and you don't even have to get your hands dirty! Do it, and enjoy the sheer pleasure when you have a friendly chat with your family members over a fatty piece of quiche on a glorious Sunday morning!
Do you find this recipe useful? Is there anything that can be changed to make the quiche even more delicious? Don't hesitate to share your ideas in the comment section. If anyone on your friend list needs an effortless breakfast or light meal, please introduce this post to them!
Nutrition Facts
4 servings per container
---
Amount Per ServingCalories550
% Daily Value *
Total Fat 31.8g

48

%
Cholesterol 249mg

83

%
Sodium 1032mg

43

%
Potassium 583mg

17

%
Total Carbohydrate 39.3g

13

%

Dietary Fiber 3.6g

12

%
Sugars 14.7g

Protein 27.2g

54

%
---
Calcium

488

%
Iron

4

%
Vitamin D

22

%
* The % Daily Value tells you how much a nutrient in a serving of food contributes to a daily diet. 2,000 calories a day is used for general nutrition advice.