BBQ appetizers are more crucial than you thought. You don't want all your guests waiting for hours with their empty stomachs until all the main courses are cooked thoroughly, do you? That's why these dishes are created.
No matter whether your guests are adults or children, this list will satisfy them all. All thanks to their superb flavor and lovely appearance.
On the other hand, as it started with BBQ hors d'oeuvre, it would be even better if you finish your party with some extraordinary BBQ desserts. I bet all your guests will be wowed by your preparation. But first, let's find out what BBQ starters I have here for you!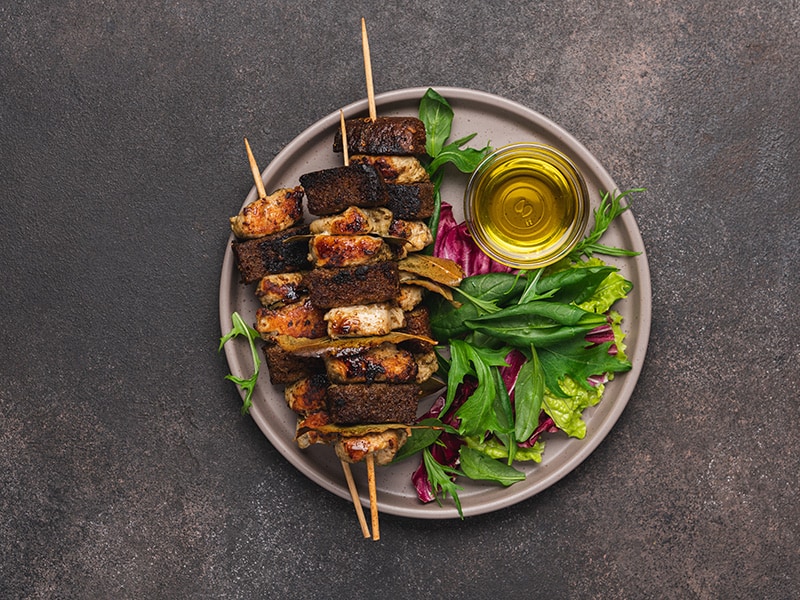 You'll Want To Make These BBQ Appetizers Right Away!
As they all are BBQ appetizers, these dishes are obviously quick to complete and delicious enough to drive your guests' attention away from your griller. So, let's see what recipes can meet these demands.
Recipes For Adults
Dishes With Cheese
Volcano Potatoes
Beach Bread
Caprese Salad
Tortellini Skewers
Greek Feta Dip
Potato Skins
Fruit And Vegetable Dishes
Prosecco Grapes
Pineapple Salsa
Tomato Tartine
Fried Pickles
Egg Dishes
Scotch Eggs
Deviled Eggs
Meat Dishes
Steak Tips
Buffalo Chicken Dip
Seafood Dishes
Beer-Battered Fish
Grilled Shrimp Skewers
Recipes For Children
Fried Dishes
Mozzarella Sticks
Potato Chips
Crab Cakes
Korean Fried Chicken
Fried Gizzards
Baked Dishes
Cheeseburger Sliders
Pigs In A Blanket
Mini Pizzas
Grilled Dishes
Grilled Halloumi Cheese
Chicken Kebabs
Other Dishes
BBQ Meatballs
Fondant Potatoes
Watermelon Pizza
So, let's get fired up!
All Adults Will Love These Flavorful BBQ Appetizers
You have to agree with me that your guests will only wait calmly for their BBQ main courses if they have enticing appetizers in front of them. So, nothing is better than having these dishes at the beginning of your BBQ party.
BBQ Appetizers With Cheese – A Perfect Combination!
I've always thought cheese is an ideal partner with BBQ dishes for its richness and creaminess. So, how about bringing up this combination to the appetizers?
This dish indeed looks like a volcano. Or should I say some volcanoes? Each potato is hollowed inside, filled with meatloaf, and wrapped with some bacon. Then, you'll grill them all on your grill. And don't forget to dress them with some cheese.
After grilling, the cheese will melt and make these potatoes look like some volcanoes in real life. And their taste will blow your mind away with all the flavor condensed inside the potatoes.
Your mouth will start watering when seeing these volcano potatoes. You can see this video to know more:
Every party needs some bread for an appetizer. However, with a BBQ party, garlic bread seems so ordinary. Thus, here I am with this beach bread. Simply put, it's like your traditional cheese bread but on another level.
The secret lies in the blue cheese used in this recipe. Some people may hate blue cheese for its smell, but with a proper amount, it'll provide your dish a sharp and salty flavor that no other cheese can compare.
When tomato season comes, don't forget to make this Caprese salad – an iconic appetizer in Italian cuisine. This dish is one of those recipes praising the ripe tomatoes' flavor to the fullest.
You get various tomato slices lining up beautifully with mozzarella cheese and basil, a perfect way to enjoy the taste of every ingredient.
Balsamic glaze is a standard choice to season this salad. But if you have the freshest, sweetest tomatoes on your hand, you can skip it and just lightly flavor your dish with salt and olive oil.
This Caprese salad will make even the hardest Italian smile! You can see this video to know more:
These tortellini skewers are often served as an antipasto, the Italian equivalent of "appetizer." But compared to other recipes, it suits parties in the open air more as people can just grab their skewers and enjoy without having to use any utensils.
As for this dish, cheese tortellini is the most appropriate option as its richness matches perfectly with other vegetables like olives and cherry tomatoes. You can add some cured meat to these skewers for more slatiness and extra protein.
Greek feta dip is a classic idea to begin your Greek meal. It may be simple, but are you sure you know the best way to make it? Well, in fact, I'm not so sure myself since the world of flavor is so vast that you can't know for sure you've reached its depth.
But here are some tips for you so your feta dip can be even better than you thought. If possible, choose block feta cheese instead of crumbled one since it's much creamier and softer. Greek yogurt is also a superb choice for more richness and nutrients.
Many people only use the potato flesh and throw their skin away, which I deem such a waste since it can turn into this simple yet mouthwatering appetizer. Just a quick brush of melted butter on both sides of these potato skins, and you'll have a beautiful dish with a pleasant aroma.
Not to mention, you can make up various versions of this recipe just by changing the topping so it will never turn dull. My family's all-time favorite choice is sour cream, bacon, and cheese. But you can add pineapple for a tropical taste or use some taco spices for a fun twist.
Crunchy and full of flavor, what else can I ask for with these potato skins? You can see this video to know more:
These Refreshing BBQ Appetizers Are Made Of Fruits And Vegetables
Nothing can beat these fruit and vegetable appetizers in terms of freshness. Not to mention, the sourness from these ingredients will increase your guests' appetite for the following dishes.
This dish is an unusual fruit beginning with the letter P that not everyone has known before. And this is Prosecco grapes. These grapes are often seen as a dessert, but they can still serve as a refreshing appetizer on hot summer days.
Though this dish is a bit time-consuming, it doesn't require much effort. Just marinate your grapes in champagne overnight and coat them with sugar before placing them in the freezer.
Serve them cold with a glass of cocktail, here is your perfect summer treat. However, since this dish contains liqueur, remember to warn your guests in advance.
With a BBQ party full of meat, fruits and vegetables are never enough. That's why I add pineapple to the classic salsa and serve it with tons of tortilla chips. The sourness from pineapples and tomatoes makes it perfect for an appetizer.
Also, there's so much fun to twist this salsa. You can add jalapenos for extra spiciness or use lime juice for more tanginess. Don't stop at just one type of bell pepper. Summer foods always welcome more colors.
You can see this video to know more:
In France, "tartine" means "spread," and this dish consists of a bread slice with various toppings spread on top. This appetizer not only looks beautiful, but it also is suitable for outdoor meals since it tastes good even at room temperature.
And as my family often holds BBQ parties in summer, I tend to make this tomato tartine with ripe tomatoes. Aside from that, you can choose other ingredients to make multiple combinations like garlic butter, fresh herbs, etc.
Pickles are a familiar side dish, but you can change them into a fantastic appetizer by deep-frying them. You can use any pickles you have, from sweet ones to dill ones. Just make sure you dry them and slice them thick enough for the batter.
Then, can you use fresh cucumbers instead of pickles, considering they're so similar? Well, no. There are still several dissimilarities between cucumbers and pickles which makes it nigh impossible for you to use these two interchangeably in this recipe.
Though Southern buttermilk is a classic batter, feel free to alter the coating to your likings by adding any spices you want to the crumbs. Italian seasonings, paprika, or chili powder are an exciting choice for more complex flavors.
Don't Miss Out On These Toothsome BBQ Appetizers With Eggs!
Is it strange for eggs to appear at BBQ parties? Not at all! From my experience, egg appetizers are suitable for all meals, from luxurious to casual ones like in this case.
And these dishes taste delicious even when served cold, suitable for these outdoor parties.
Nothing beats the feeling of biting into the crunchy coating of Scotch eggs and having the runny yolk melting on your tongue. However, if you don't trust your cooking skills enough, you can just use the hard-boiled eggs instead.
You can combine it with other ingredients to make them more special. For example, you will love the delicious ground chicken treat that coats Scotch eggs. And for a perfect batch of Scotch eggs, you should use the same size eggs so that they are done with the same amount of time.
Nowadays, deviled eggs have become a familiar sight at almost every party, especially ones held outdoors. Though some people are still shocked by its name, hardly anyone feels afraid of eating them anymore.
That may be thanks to these eggs' vivid appearance. At first glance, they look just like typical hard-boiled eggs, but with some additional paprika or other ingredients, this dish becomes more colorful and has more flavors.
Not to mention, today, people have created more and more versions of these deviled eggs like avocado, curry, or buffalo ones.
Here is a little fun twist for your over-familiar deviled eggs! You can see this video to know more:
These Meat BBQ Appetizers Are Richer Than Ever
BBQ parties are all about meat, right? So, why not double the amount of meat with these appetizers? Don't worry, they won't be too hearty to fill you up in an instant but still enough to satisfy your palate.
Why not start a meat BBQ party with a meat appetizer? Sounds too heavy for you? Well, wait until you try this dish! I bet you'll be willing to devour a whole palate all by yourself.
While I often serve steak tips with caramelized onions, you can make some pineapple teriyaki sauce to accompany it and lighten the richness. Some sourness is never enough to lighten your palate at a BBQ party.
Buffalo chicken wings are delicious, but they take quite some time and can be pretty messy when eating. So, if you want something convenient and having a similar flavor to these buffalo wings, this dip will be your best choice.
To make this dip, you don't need to coat your chicken with buffalo sauce. Instead, you'll mix it with blue cheese or ranch to make a creamy sauce to cover the shredded chicken before baking them in the oven.
You can see this video to know more:
These Seafood BBQ Appetizers Can Be Done In Just A Few Minutes!
I personally favor seafood with cooking-right-away appetizers since they only take a little time to finish and even less to prepare. So, you can cook them on the spot and serve them to your hungry guests.
My husband enjoys BBQ food with a cup of beer. And sometimes, that's not enough with him. So, here is the beer-battered fish exclusive to him and people who love deep-fried fish with a flaky interior and crunchy exterior.
Cold beer is a better choice when making this recipe as it makes the batter crispier. And as the batter is already flavored with other spices, you just need a simple tartar sauce to accompany your fish.
You can't count out shrimp skewers on your BBQ parties. Requiring less than 10 minutes to complete, this dish is my family's favorite appetizer.
Not to mention, these grilled shrimps can go with different marinade sauces, from the standard ones with lemon juice to more advanced ones made of wines like a margarita.
However, be careful when grilling your shrimps, as they can be overcooked in just a short time. So, keep your eyes close to the griller!
Be careful! These grilled shrimp skewers will disappear before you know it. You can see this video to know more:
These Tasty BBQ Appetizers Will Charm Your Children As Well
No matter how much you consider what your guests love or hate, if you don't take their children into account, all these thoughts will turn to waste. Some even say kids are the pickiest eaters on Earth.
But with these appetizers, you won't have to worry about this nightmare happening.
5 Fried BBQ Appetizers Are Kids' Favorite
Every child loves fried food, period. Ask your children, your neighbors' children. They will say the same as I do. So, why don't you make these fried appetizers to satisfy them?
I can't think of any appetizers easier than this one. You just need to coat your string mozzarella cheese with egg mixture and breadcrumbs. And these sticks are so versatile that you can serve them with any sauce or dressing.
This recipe is also my favorite appetizer that is cooked in an air fryer. However, for this dish to come out as beautiful as possible, make sure you coat your cheese thoroughly. You can dip these sticks in egg mixture and breadcrumbs twice, so the coating comes out perfect.
Some of you may wonder, why bother making these potato chips while I can buy commercially made ones? Well, you can go for the store-bought options if you want your mouth full of artificial seasonings. For me, I prefer this healthier choice.
Not to mention, these potato chips are so simple that you can make tons of them in less than an hour. Just soak all potato slices in water (with a bit of vinegar to keep them crispy) and fry them until golden brown. Don't forget to sprinkle some salt for the finishing touch.
These crab cakes will take you to the ocean right away with their freshness. To earn that, you must avoid all canned and frozen crabs at all costs since they are more suitable for your soup. For a full flavor of crab, choose the freshest crabs as possible.
Also, since crab's taste is pretty delicate, you'd better cut down on the filler to not overshine the light sweetness from the meat. This also keeps your crab cakes remain juicy, soft, and still crunchy enough.
This is the secret to keep your crab cakes crispy and tender at the same time. You can see this video to know more:
Say goodbye to your fast-food fried chicken and welcome this Korean version. Why do I say that? It's because once you try this dish, you can never get enough of its spicy and sweet sauce. The fact that there are numerous stores selling this dish in Korea reflects how delicious it is.
To make this chicken recipe stay as authentic as possible, gochujang, a Korean chili paste, is a must-have. It provides this dish both heat and smokiness at the same time. The bright red color of this recipe also comes from gochujang.
If you are going to throw chicken gizzards away, stop right there! Do you know that they are one of the most delicious chicken parts?
Some of you may argue that gizzards are all chewy and bland. But that only happens when you cook them the wrong way. If you fry them at a proper temperature, they will turn tender with all the crunchiness and flavors from the coating.
These Baked Dishes Are Perfect To Start A Party
While baked desserts are often connected to children more, these appetizers can please anyone, from adults to kids. And do you know what? They are super easy to make!
Cheese burgers make a perfect lunch, but you can make them into these sliders for an appetizer. They don't need more than half an hour to come out all cheesy and gooey with the smell, just like a burger.
And don't worry if they are too rich. You can add other seasonings to the patty to balance the flavor, like ketchup and mustard.
Don't know how to make these cheeseburger sliders? Well, this is your answer!
Your children will love this dish right from its name! It sounds fun, exciting, and delicious. And this recipe is as tasty as its name. Honestly, who can refuse sausages wrapped in baked dough?
There is another version of this dish for your Mexican-style starter. And you can serve it along with your fresh salsa or guacamole.
Regular sausages are often used when you want to make this dish for dinner. But as an appetizer, bite-sized ones are much more suitable, and my kids also love the latter option more. You can add other ingredients like jalapenos, eggs, or cheese for more nutrients.
A whole regular-sized pizza is a bit too much for an appetizer, but these mini pizzas are just enough. Not to mention, with them, you are free to create as many flavors as possible. You can even make several different toppings based on your guests' preferences.
The making process of these mini pizzas is no different from standard pizzas. With the same dough, use a round cookie cutter to cut them into various pizza crusts. Then, place whatever ingredients you want on top and bake them in the oven.
2 Awesome Grilled Appetizers That No One Can Refuse
Why not take advantage of your smoker to make these grilled dishes? Their aroma won't lose to other main courses and will draw all the energetic children to the table immediately.
Cheese melts when grilled, right? But there's one kind of cheese that still retains its form, and that's Halloumi cheese. Though in raw form, this food starting with "H" tastes somewhat rubbery and unpleasant, you'll get a cheese block all soft and chewy after grilling for a bit.
And it even tastes better if you flavor it with some spices like paprika, cumin, or garlic powder in advance. You can eat these cheese pieces on their own or combine them with salads or toasts.
Do you know that there are three ways to enjoy this grilled Halloumi cheese? You can see this video to know more:
These chicken kebabs are precisely what everyone's looking for as an appetizer. It's flavorful enough to satisfy your guests but still leaves them hungry enough for the next course.
Especially if you make them in Hawaiian style, besides being savory, your chicken skewers also taste both sweet and sour, making it irresistible to even the pickiest diners.
Aside from chicken, you can also place bacon and various veggies on the skewers, so the dish looks more colorful and has more flavors.
These Fantastic Appetizers Are Made To Enjoy
Some of these recipes' flavors are as beautiful as they look, while others taste even better. Your children will be enticed with them just by the first bite.
What's better to start a BBQ party than these BBQ meatballs with some accompaniments? They'll help you stay calm while waiting for the main dishes to be cooked on the smoker. Most importantly, you can prepare them beforehand, so you won't have to rush your cooking later.
Not to mention, these BBQ meatballs are so simple to make. You can even buy the frozen ones in the supermarket. However, make sure you choose ones with essential ingredients like ground meat and fillers. You don't want your meatballs to taste full of those artificial additives.
Fancy as it may sound, this classic French dish is actually quite simple to make. Just cut your potatoes into cylinders and roast them with broth and butter until they turn golden brown and full of flavor.
The result is tons of potato pieces tender inside yet still crunchy on the outside. And since potatoes are an easy-to-absorb ingredient, one bite into them can make you drown in the ocean of flavor from the stock and other spices.
You can see this video to know more:
Who said pizza must be made with dough? I beg to differ with this watermelon pizza. Ok, I know making a pizza with a watermelon sounds bizarre, but if you want to hold a BBQ party in summer, this dish should be on your menu, whether it's an appetizer or a dessert.
You can make it in both savory and sweet style. Top the watermelon slices with cheese, olive, and balsamic glaze for the former option, making it somewhat similar to the caprese salad. And if you want to opt for the dessert way, feel free to combine it with other fruits and whipped cream.
Which BBQ Appetizers Will You Make For The Next Cook-Out?
I hope, with this list, you now don't have to worry about what to make for your BBQ appetizers. These recipes go perfectly with all other main dishes, so choose as many as you want.
Also, feel free to introduce this article to your friends so they can plan for their next BBQ party. And if you have any other opinions about this topic, please share them in the comment section below!
Nutrition Facts
16 servings per container
---
Amount Per ServingCalories710
% Daily Value *
Total Fat 30.7g

48

%
Cholesterol 164mg

55

%
Sodium 1226mg

52

%
Potassium 2005mg

58

%
Total Carbohydrate 60.9g

21

%

Dietary Fiber 9g

36

%
Sugars 5.3g

Protein 46.6g

94

%
---
Calcium

272

%
Iron

14

%
Vitamin D

7

%
* The % Daily Value tells you how much a nutrient in a serving of food contributes to a daily diet. 2,000 calories a day is used for general nutrition advice.