Air fryer salmon is the answer whenever you're looking for a meal that's both lightning-fast and packed with flavor. This dish is a slam dunk for anyone in need of a scrumptious and healthy dish that won't take up hours of your time.
Not only that, but your salmon will come out of the air fryer perfectly moist and oh-so-tender, ready to tantalize your taste buds with its incredible taste. Don't miss out on this chance to learn a new recipe that's sure to leave you satisfied. Moreover, I'll also include an easy way to whip up a tasty side dish for your salmon!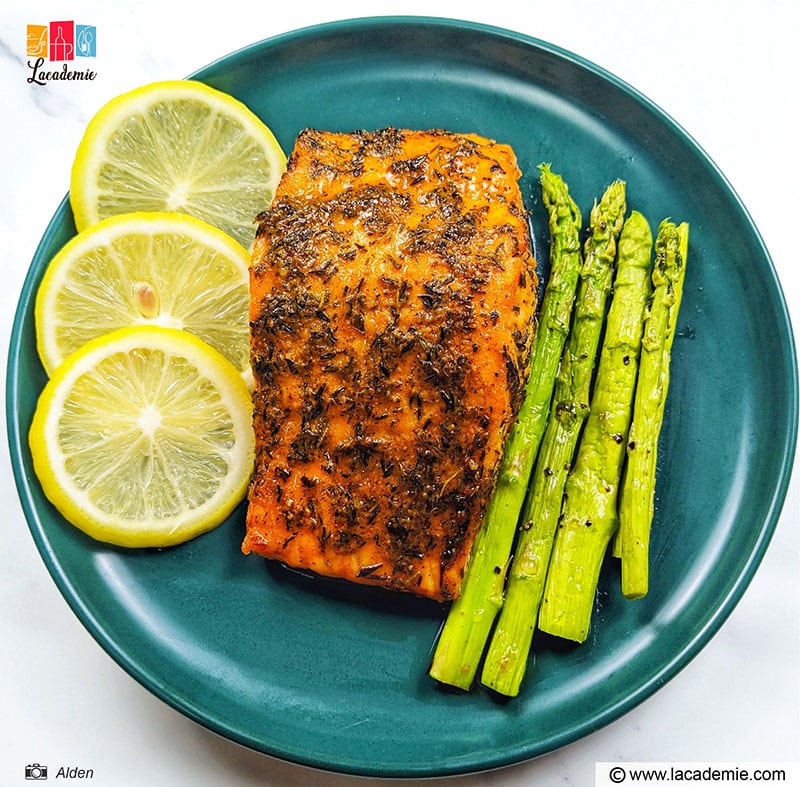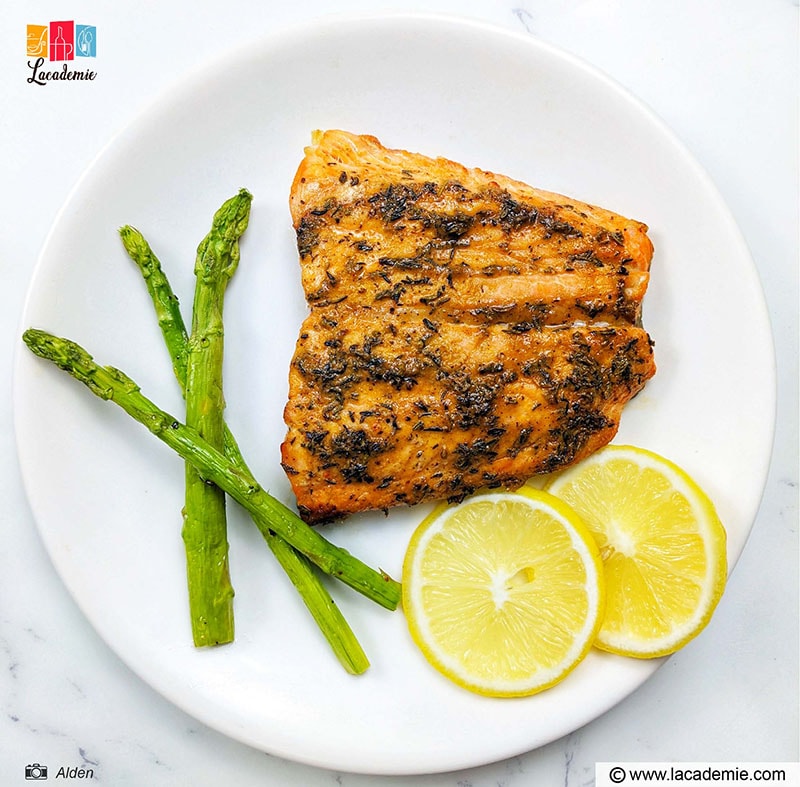 Fresh Vs. Frozen Salmon
When it comes to seafood, few options are as beloved as the delectable and nutritious salmon. But should you opt for fresh or frozen fish? While many people believe that fresh salmon is always superior, the truth is a bit more nuanced.
Sure, fresh salmon boasts an unbeatable flavor, but not everyone has easy access to a seafood market that sells newly-caught fish. That's where frozen salmon comes in as a fantastic alternative that retains all the nutritional benefits of its fresh counterpart.
So, the next time you're struggling to get your hands on fresh salmon, don't hesitate to turn to the freezer aisle. You'll be pleasantly surprised by just how delicious frozen salmon can be!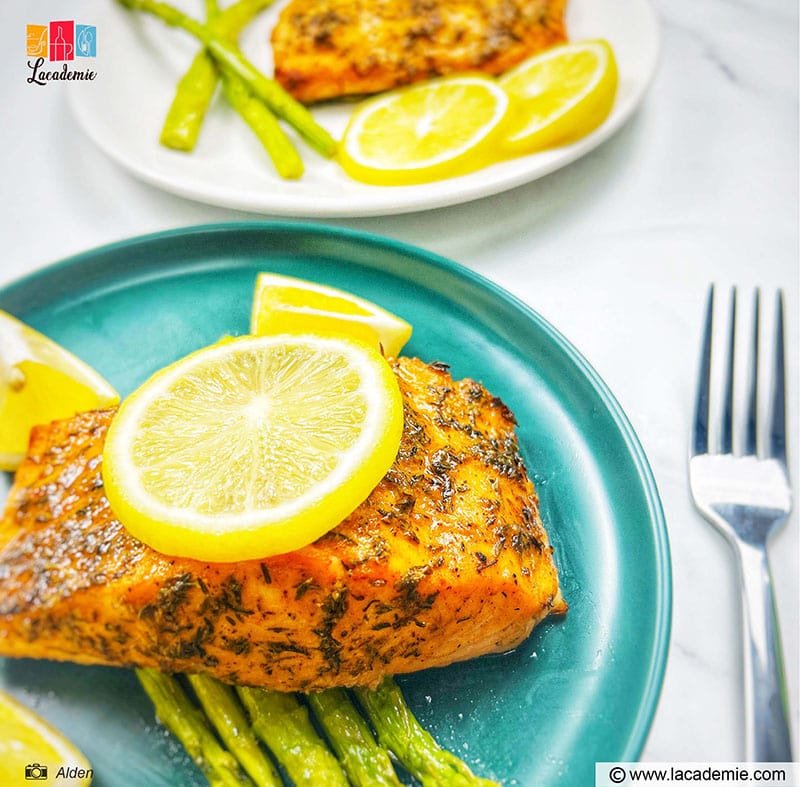 Tools
Before getting to the cooking process, it's important to have the right tools on hand to make your experience as seamless as possible. Let's take a look!
Air fryer: There are many excellent air fryer brands to choose from. I find the COSORI Pro an outstanding balance of price and performance. You can also go for the COSORI Pro II air fryer oven combo if the Pro I is unavailable where you live.
Mixing bowl: For mixing the flavorful basting sauce.
Whisk: Helps you blend the ingredients for the sauce better. 
Basting brush: For brushing the sauce on the salmon. 
Tongs: For flipping the fish.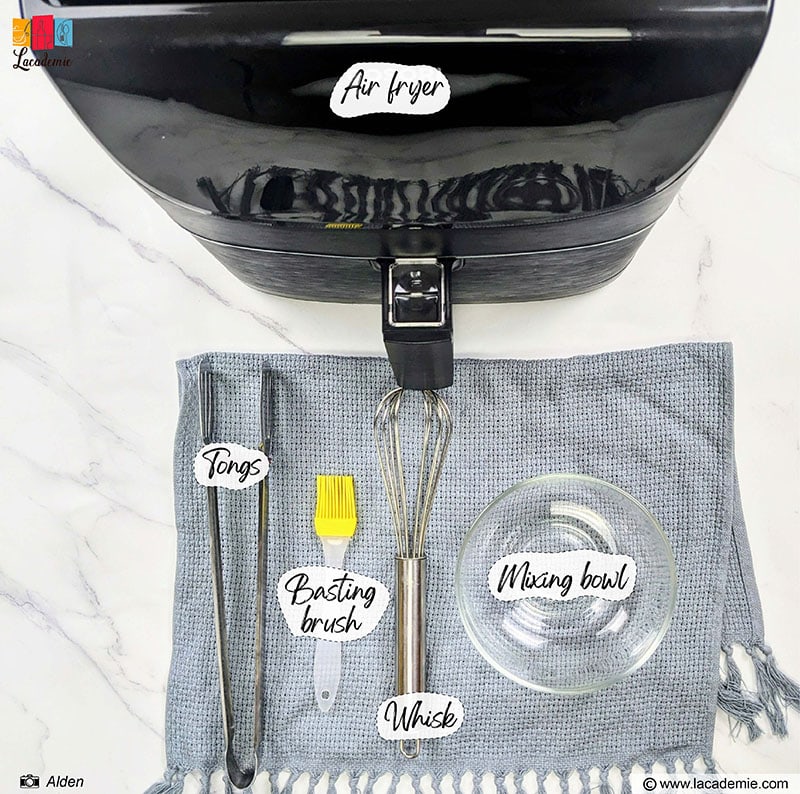 Ingredients
I'll use fresh and frozen salmon so as to show you the best ways to prepare both options. In addition, I'll include the required ingredients for my favorite side dish: air fryer asparagus.
Salmon: I use about half a pound of fresh salmon and half a pound of frozen salmon.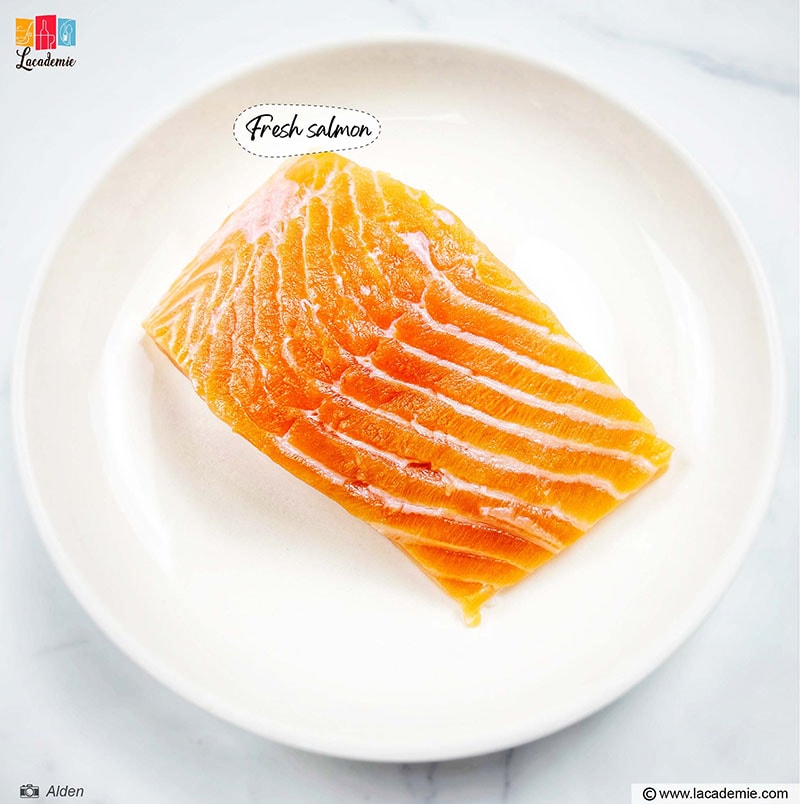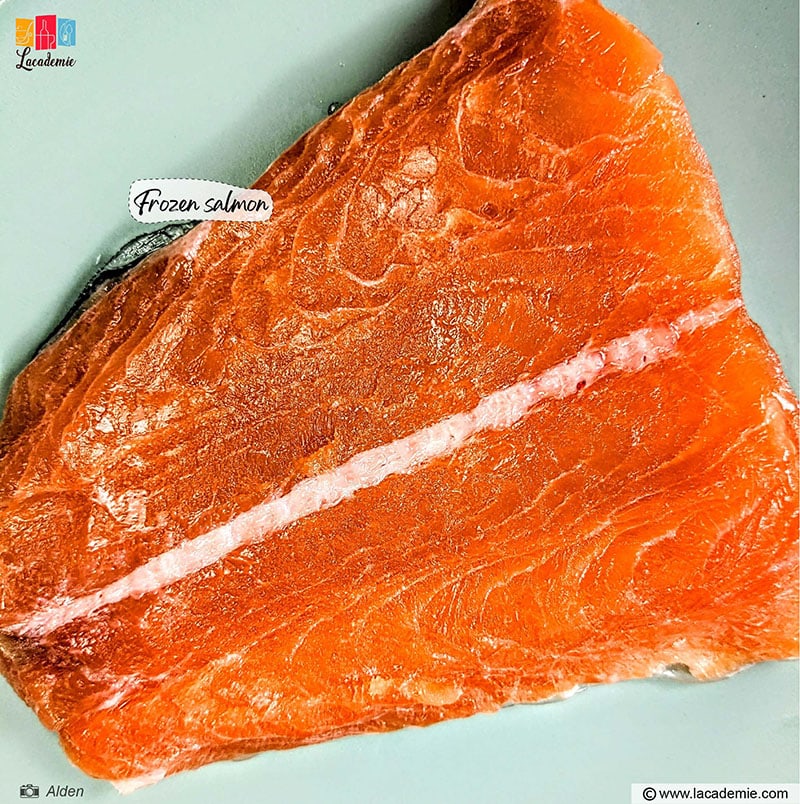 Basting sauce: Honey, thyme, olive oil, garlic powder, Dijon mustard, salt, pepper, paprika, and cayenne pepper powder.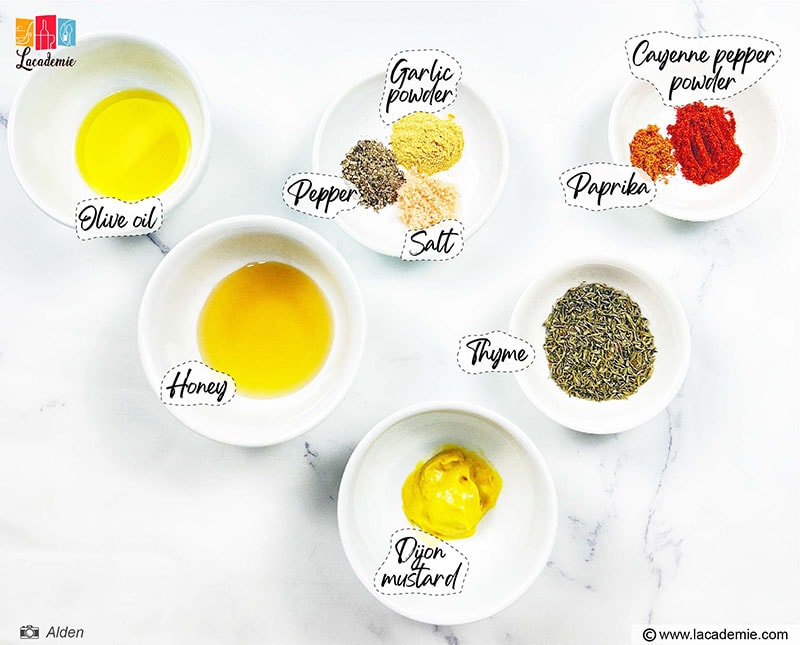 Asparagus and lemon: For serving together with the salmon.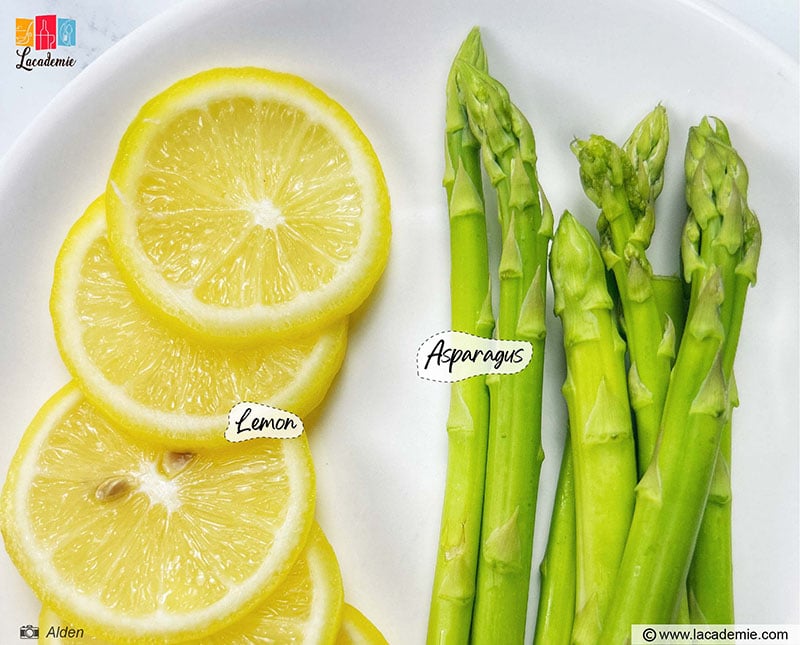 Directions
I know that you're super eager to start cooking, so I won't keep you waiting any longer. Let's start making some succulent salmon.
For Fresh Salmon
Step 1: Preheat The Air Fryer
Preheat your air fryer to 350 degrees F for about 4 minutes.
Step 2: Make The Sauce
In the meantime, start making the sauce. Add 1 tablespoon of honey, 1 tablespoon of dried thyme, 1 tablespoon of olive oil, 1 teaspoon of garlic powder, 1 teaspoon of Dijon mustard, ½ teaspoon of salt, 1 teaspoon of paprika, ½ teaspoon of cayenne pepper powder, and 1 teaspoon of pepper to a medium-sized bowl.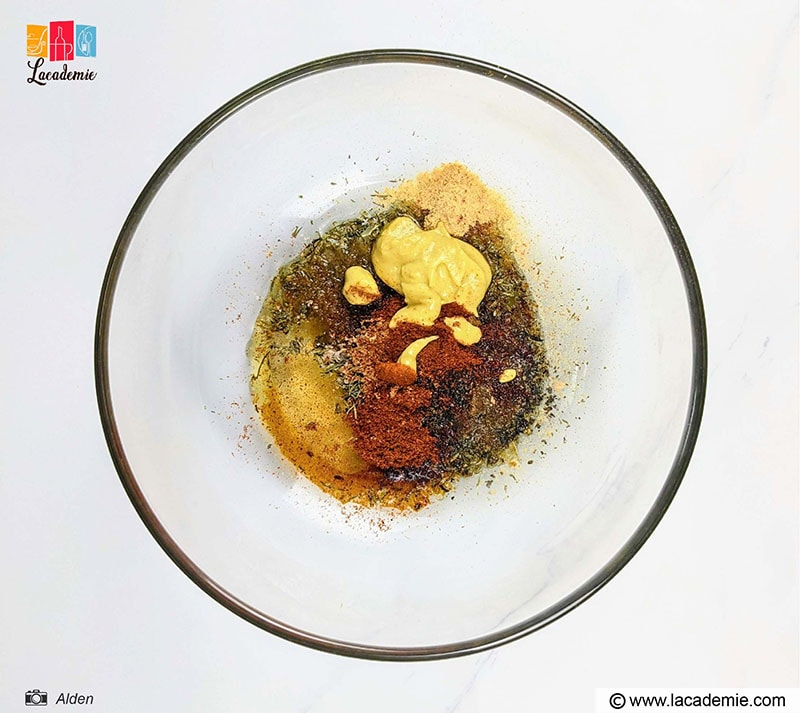 Combine everything together with a whisk.
Step 3: Air Fry The Salmon
Once the air fryer has finished preheating, spray a thin layer of oil on the basket.
Place the salmon into the air fryer, skin side touching the basket.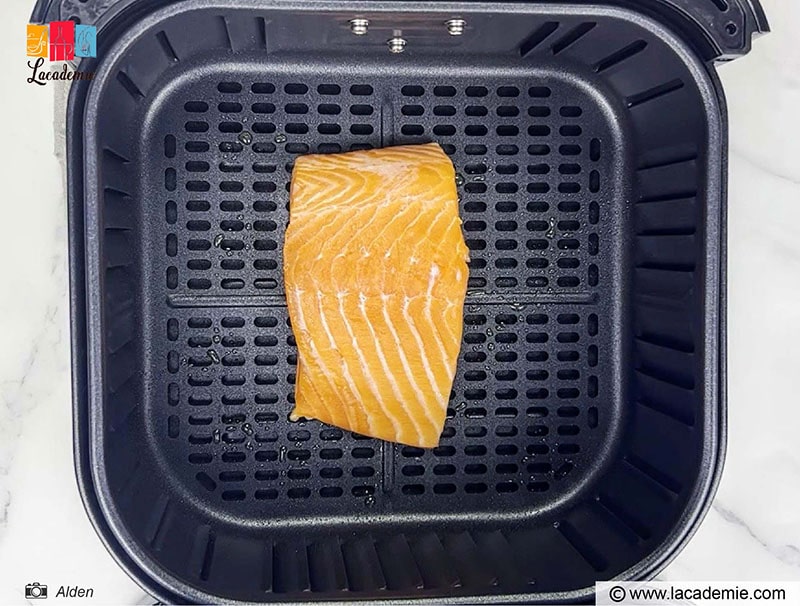 Brush the sauce on all sides of the salmon, except for the skin side.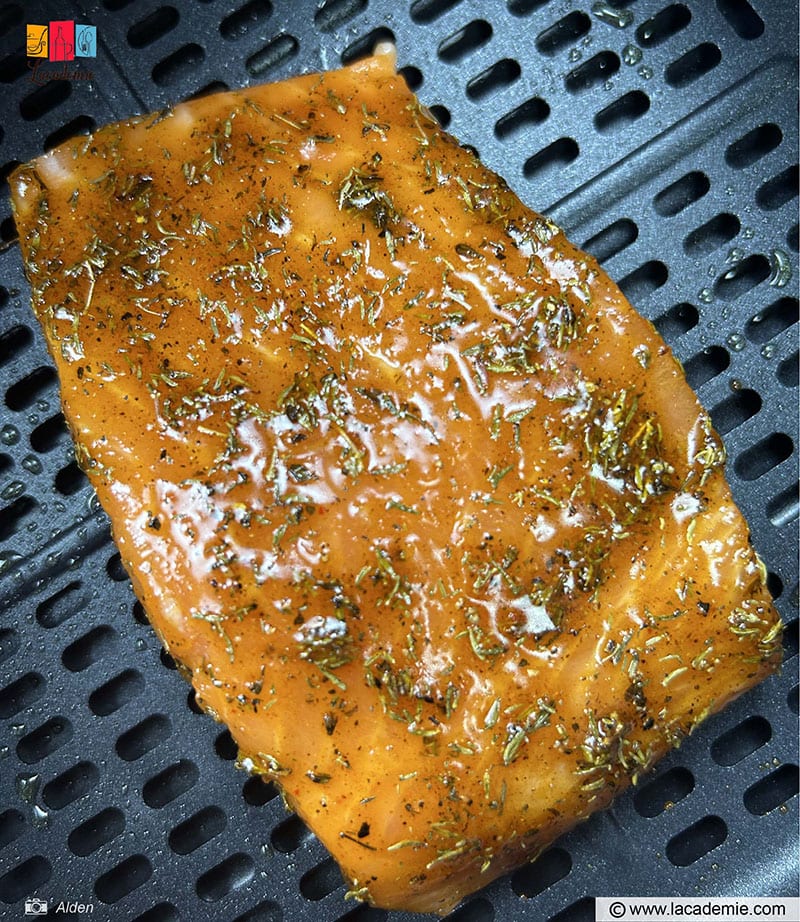 Select the "fish mode" on your air fryer and cook the salmon at 350 degrees F for 8 minutes.
After cooking, let the fish rest for about 5 minutes, and enjoy it with your favorite side dish. You can also eat the fish right out of the air fryer.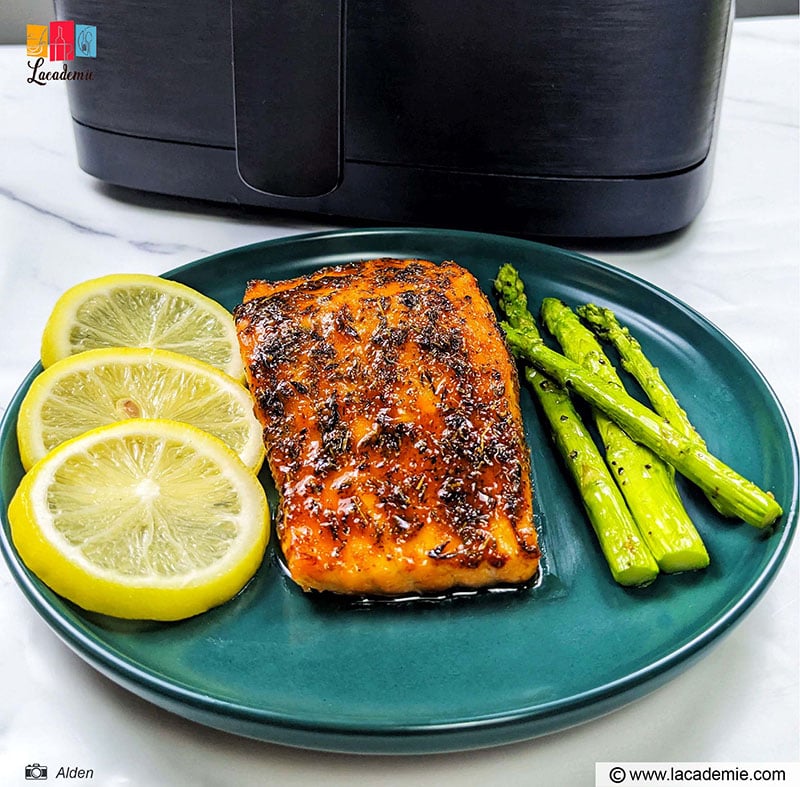 For Frozen Salmon
Step 1: Thaw The Salmon
Preheat the air fryer to 350 degrees for 4 minutes.
Lightly spray the air fryer basket with oil.
Place the frozen salmon into the basket, skin side facing down and touching the basket.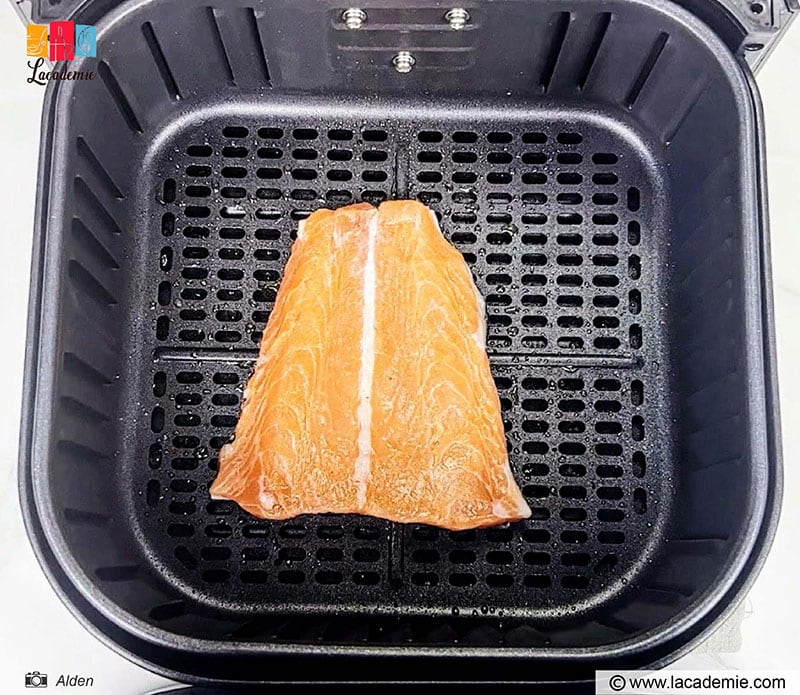 Select "fish mode" and air fry the salmon at 350 degrees F for 7 minutes to thaw it.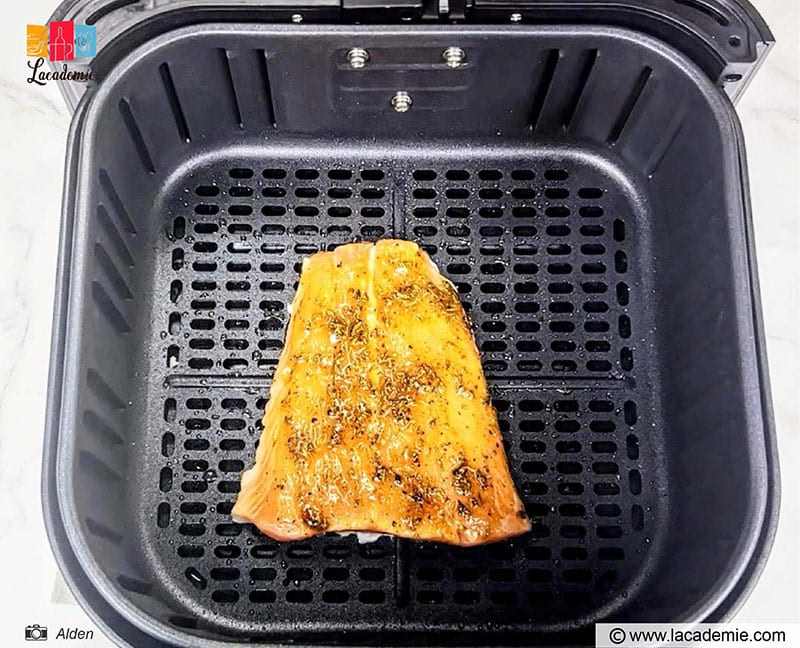 Step 2: Cook The Salmon
Brush the sauce on the salmon as instructed above.
Cook the fish at 350 degrees F for 8 minutes in "fish mode".
After that, let the salmon rest for about 5 minutes before eating.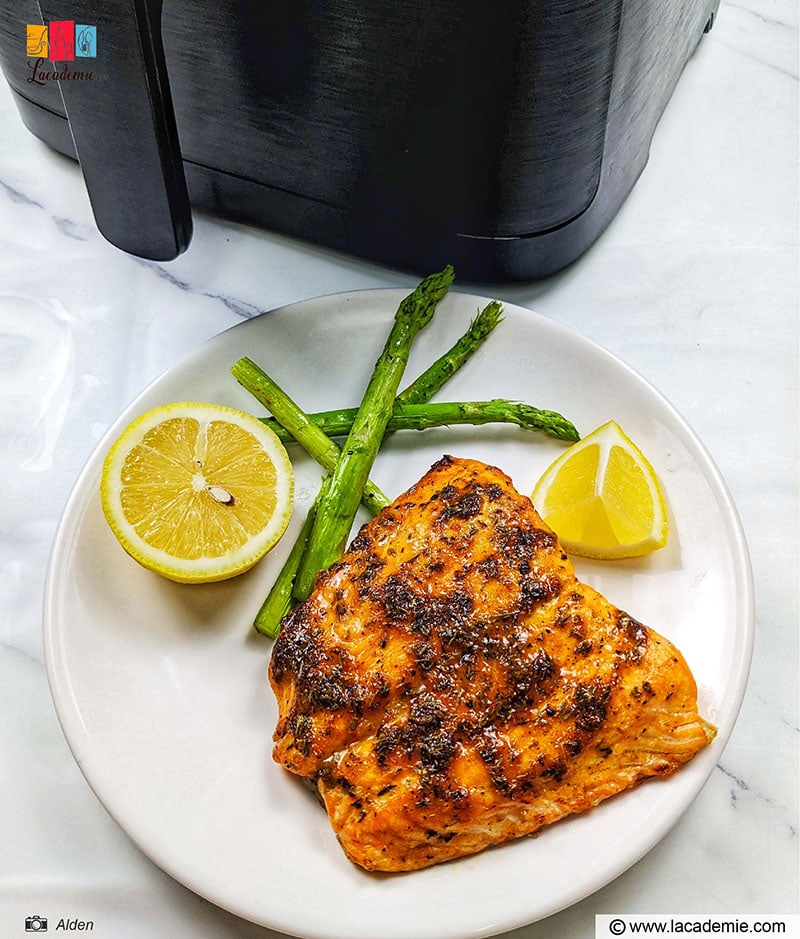 Quick And Tasty Side Dish Suggestions
There are plenty of great side dish choices for air fryer salmon. You can pair it with your vegetables, such as asparagus or broccoli. The fish also tastes fantastic when eaten with rice or quinoa.
I usually quickly cook some asparagus and slice up a lemon to enjoy with my salmon. Here's how I make my asparagus using an air fryer.
Step 1: Place The Asparagus Into The Air Fryer
Grease the air fryer basket lightly with oil. Put the asparagus into the air fryer and spray them with a little olive oil. Season the vegetables with some salt and pepper.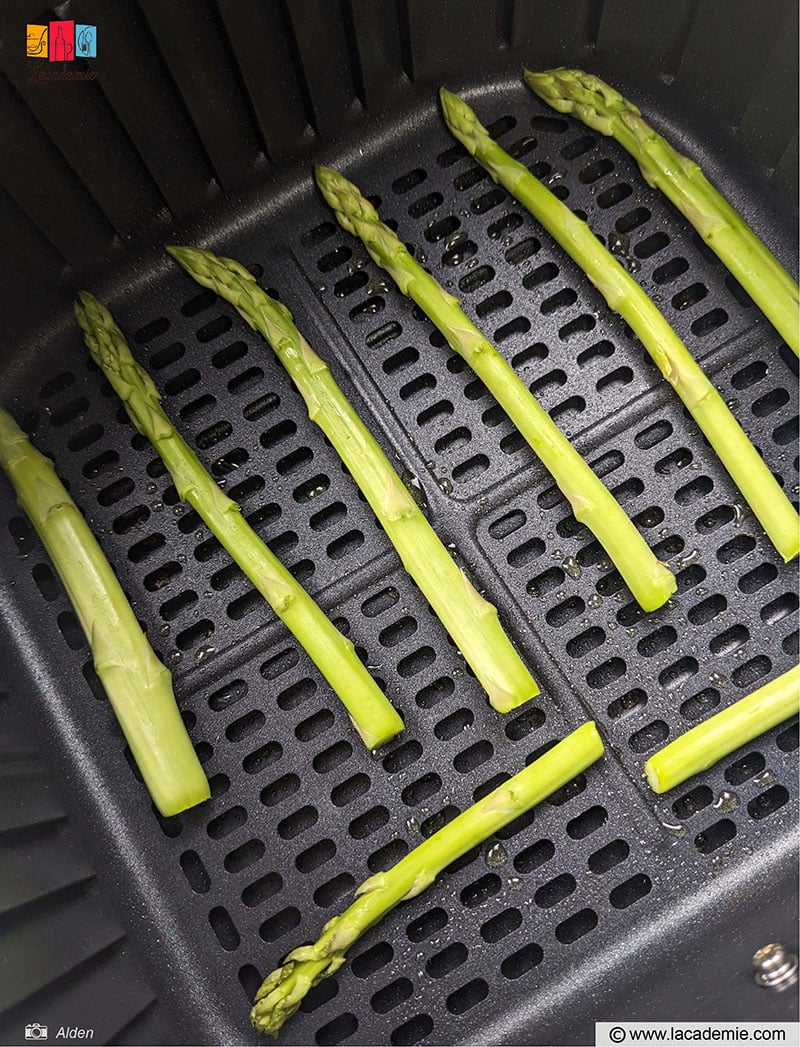 Step 2: Air Fry The Asparagus
Select the "vegetable mode" and cook the asparagus at 400 degrees F for 5 minutes. Flip the asparagus halfway through.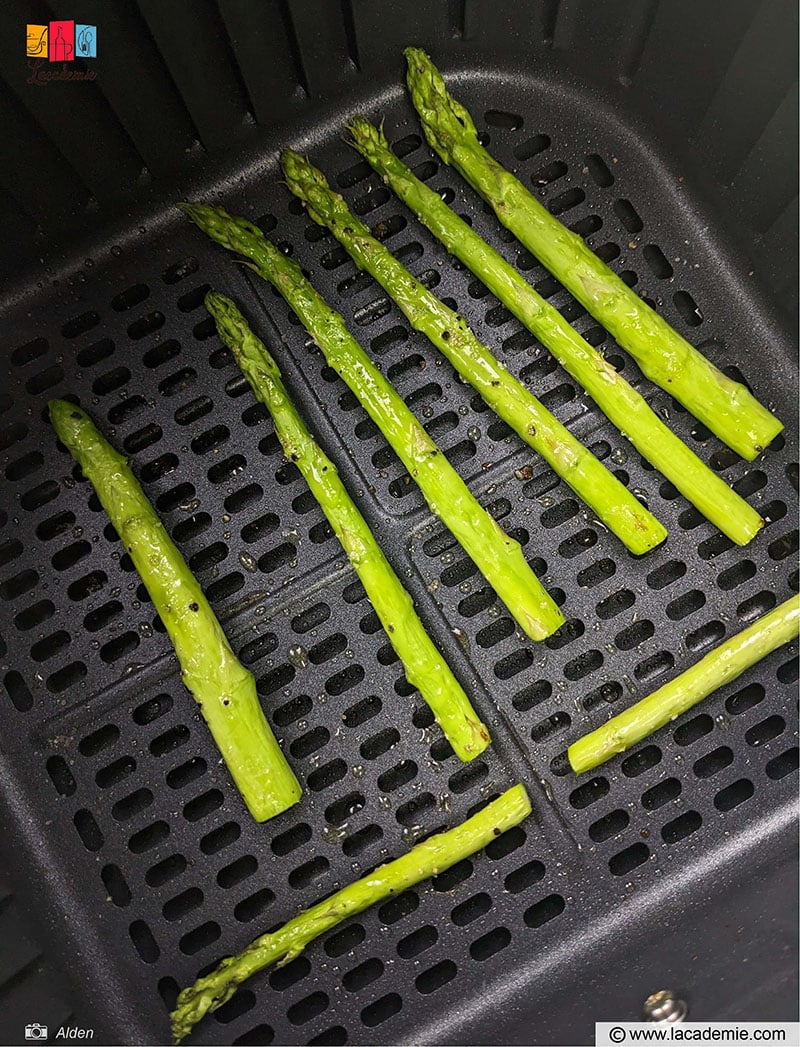 Depending on the size of your asparagus, you might need to increase the cooking time accordingly.
Extra Tips For Cooking And Storing
While the air fryer has simplified the cooking process, salmon (and seafood in general), isn't always an easy ingredient to get right. Worry not. Here are some insights to help you cook and store salmon.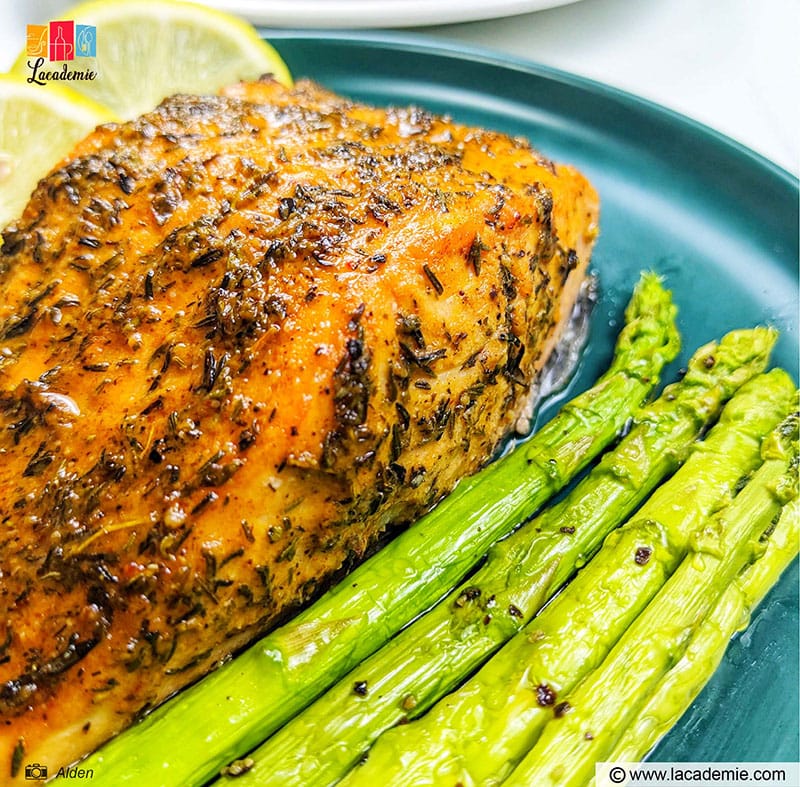 You can use a fork to test the salmon's doneness. Gently press the salmon with a fork. If the fish separate and give way easily, the fish is done cooking. Cook the salmon for about 1 minute more if necessary.
For salmon that's less than 1.5 inches thick, you should reduce the cooking time and check the fish's doneness frequently.
I find salmon tastes the best when enjoyed right after cooking. But if you absolutely need to store leftover fish, put it in an airtight container and refrigerate. Your salmon will last for about 2 days.
Air Fryer Salmon – Easy, Tasty, And Nutritious
Air fryer salmon is that one dish you can count on when you need a nutritious meal that tastes good and is easy to make. Given that the recipe takes less than 30 minutes to whip, there's no reason to not give it a try today.
What are your thoughts on this recipe? Do you have any suggestions to improve the dish? Please let me know all of them in the comment section. Also, don't forget to give the post a 5-star rating and share it with others!
Nutrition Facts
4 servings per container
---
Amount Per ServingCalories227
% Daily Value *
Total Fat 11.5g

17

%
Cholesterol 55mg

19

%
Sodium 362mg

16

%
Potassium 577mg

17

%
Total Carbohydrate 8.1g

3

%

Dietary Fiber 1.5g

4

%
Sugars 5.3g

Protein 25.2g

50

%
---
* The % Daily Value tells you how much a nutrient in a serving of food contributes to a daily diet. 2,000 calories a day is used for general nutrition advice.