If you're looking for a tasty and easy air fryer chicken wings recipe, you've come to the right place. This recipe yields perfectly crispy and flavorful wings that make for an ideal game-day appetizer or side dish.
While an air fryer is a great device for hands-off cooking, your dishes might come out a bit dry if you cook them for a little too long. But worry not; as long as you follow my instructions, I promise that the chicken wings will be perfectly moist on the inside.
Plus, I also include 3 yummy sauces that go exceptionally well with your chicken wings. If that sounds good to you, scroll down and give today's recipe a try!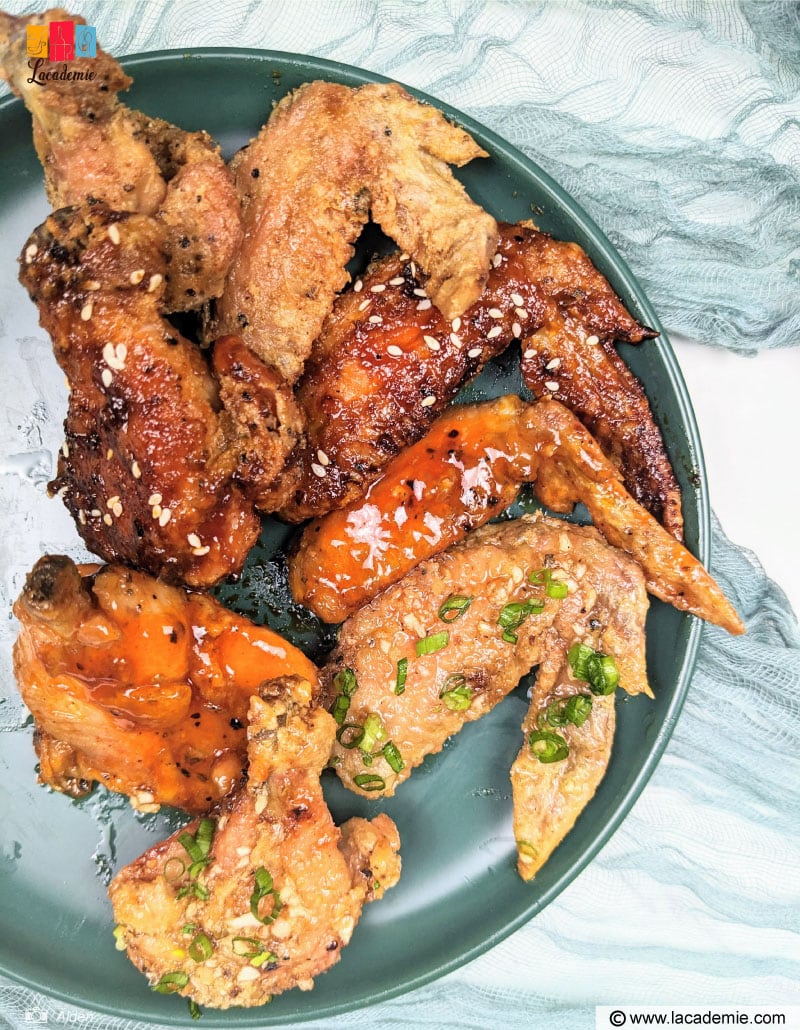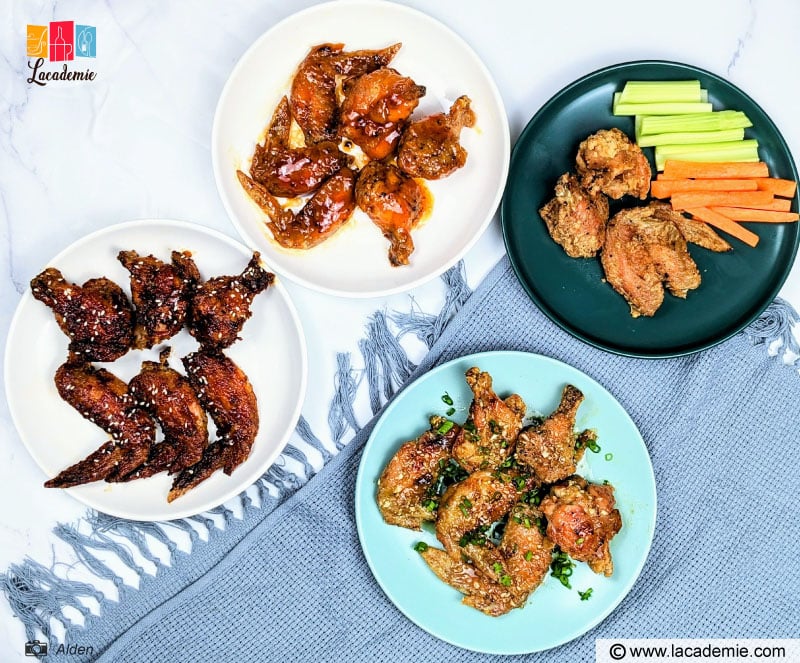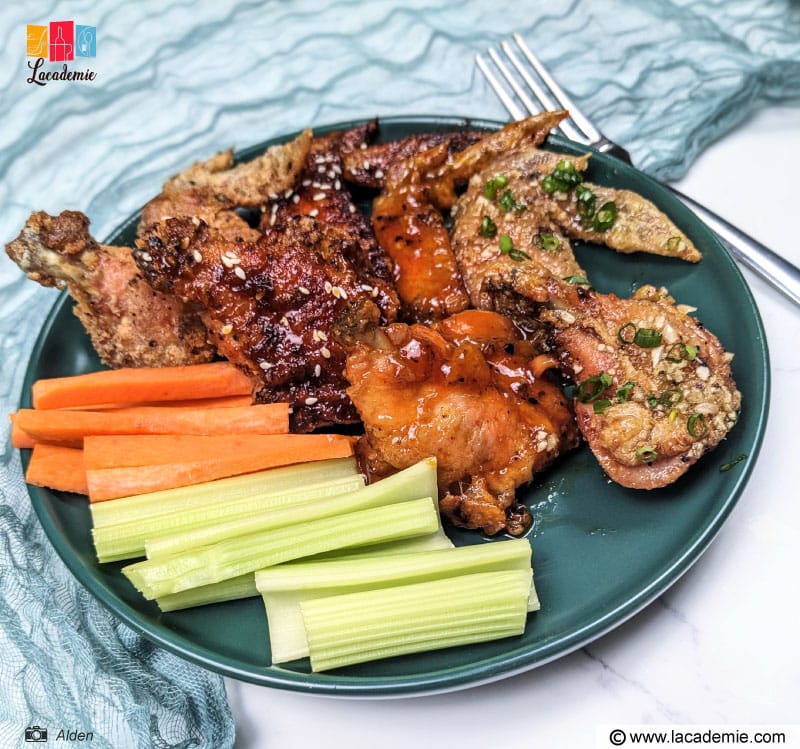 Why Air Fryer Chicken Wings Are An Absolute Must-Try
It's not an exaggeration to say that fried chicken wings are a universally loved treat. However, making them at home isn't always easy, and you usually have oil splattering all over the kitchen.
Well, not anymore, as today's recipe will solve all the problems with traditional fried chicken wings recipes.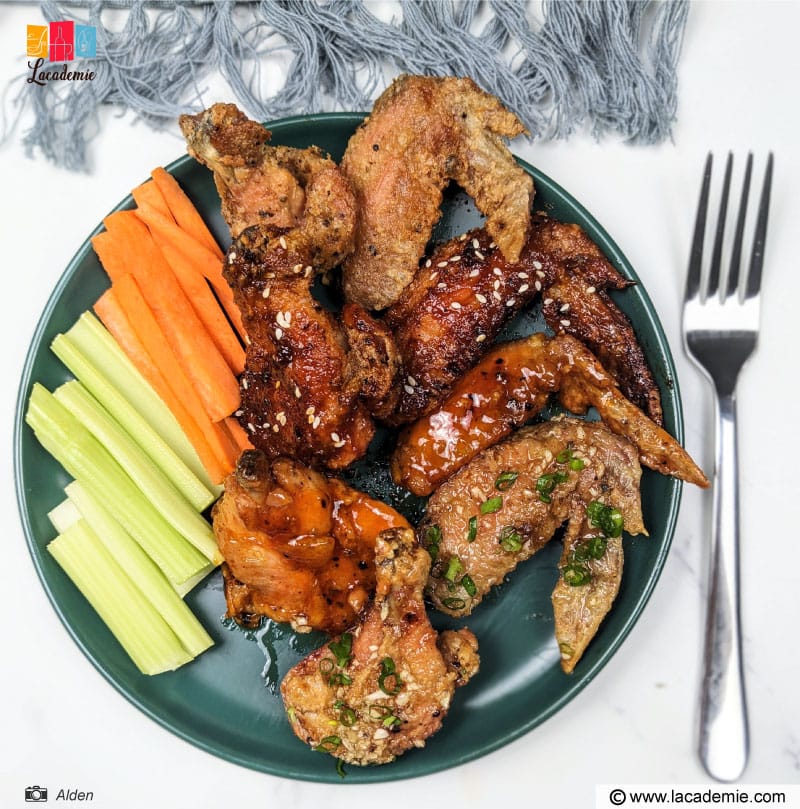 First, it requires only a few cooking tools, meaning the clean-up will be easy as pie. In addition, by using the air fryer, you will reduce the amount of oil to a minimum. As a result, the wings will be much healthier, and better yet, no more greasy kitchen afterward!
The thing I love most about this recipe is that you won't need to sacrifice flavor for convenience. Your air-fried wings will be delightfully crunchy outside and moist and juicy inside. Toss them with the 3 types of sauces that I've included in this post, and you'll never miss deep-fried chicken wings ever again!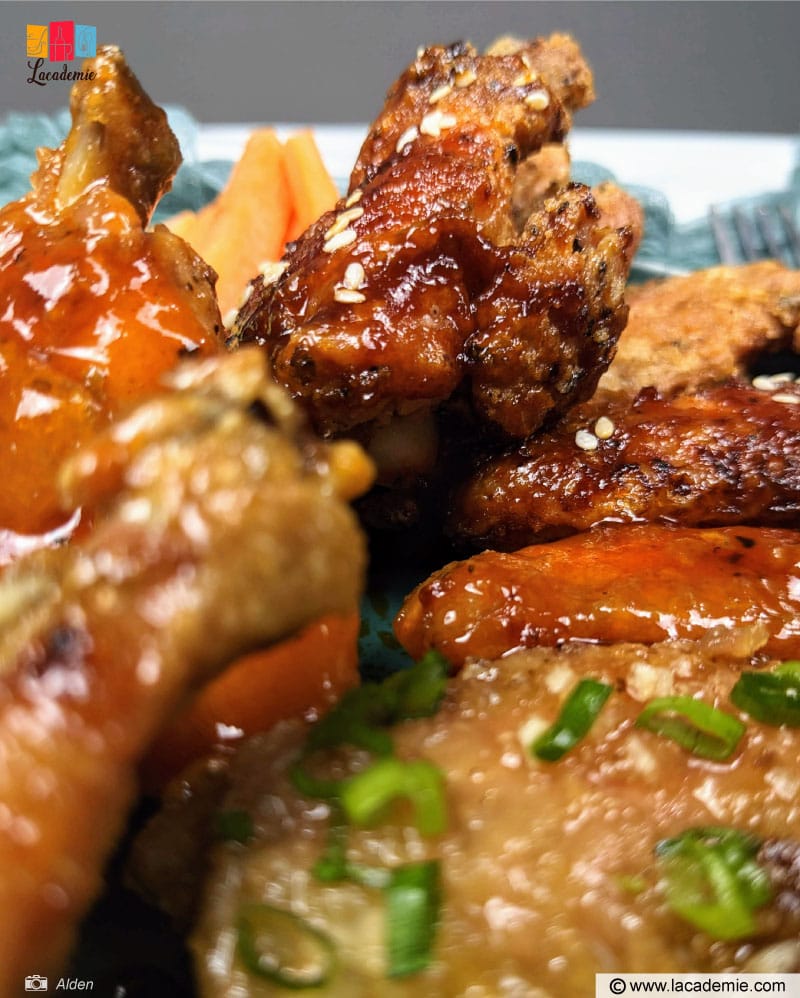 Tools
As mentioned before, the tools required for this recipe are surprisingly simple. I believe you won't have any trouble gathering all of them.
Air fryer: I make this recipe with a COSORI Pro I air fryer. The COSORI Pro II air fryer oven combo is another great choice. You might need to adjust the cooking time if you use another brand.
Knife and chopping board: I prefer a high-quality chef knife and a wooden chopping board.
Tongs: For flipping the chicken wings.
Basting brush: For brushing the sauce on the chicken.
Mixing bowl: For making the sauces.
Spatula: For tossing the chicken wings.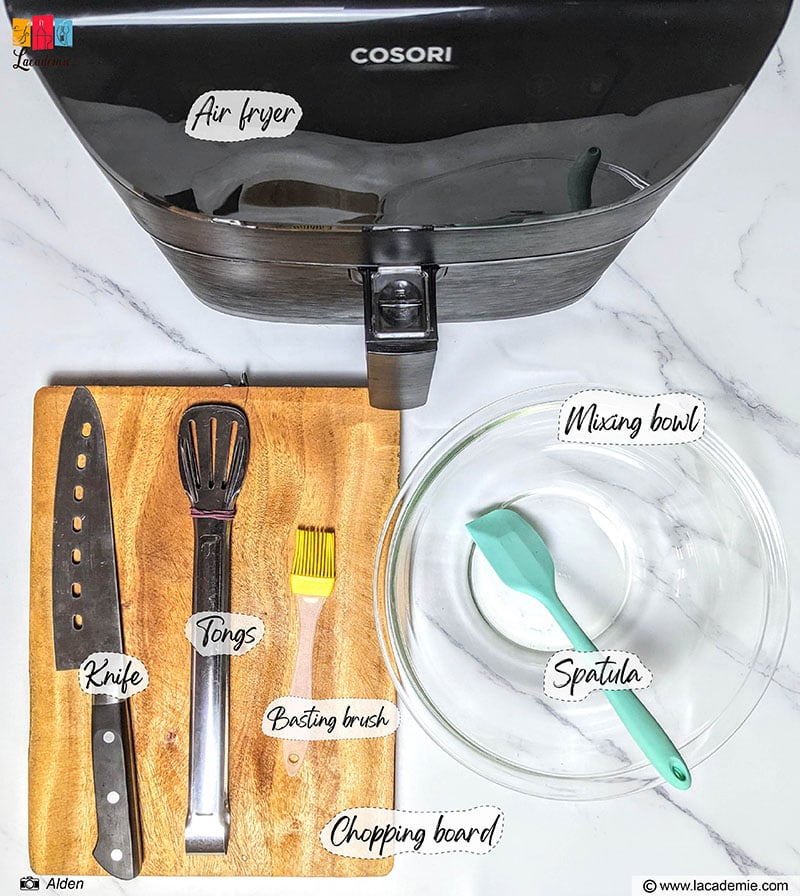 Ingredients
Besides chicken wings and a few spices to season them, you'll also prepare the ingredients for the homemade sauce.
Chicken wings: Opt for whole chicken wings that include both the drumettes and wingettes.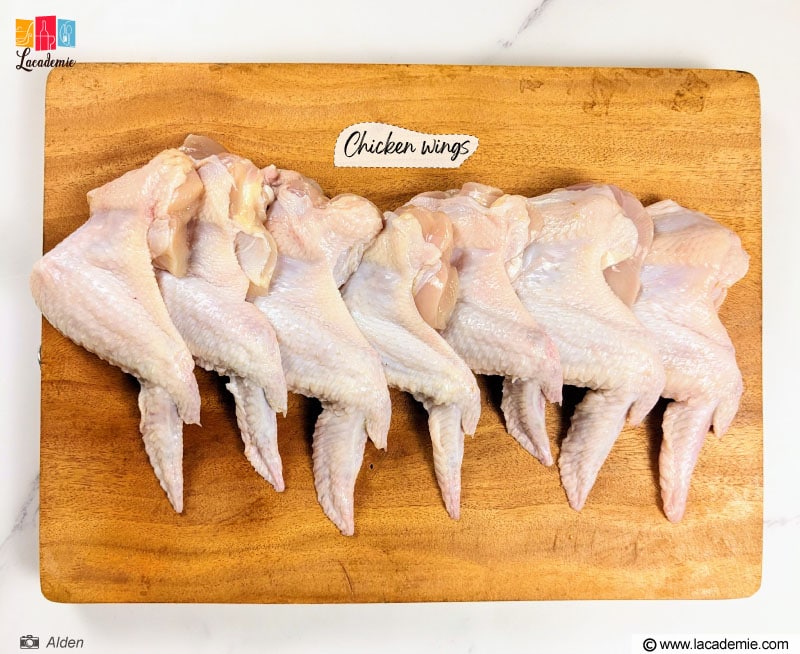 Olive oil: For brushing the chicken wings and preventing them from being too dry.
Baking powder: Adding a little baking powder will increase the skin's crispness.
Spices: Garlic powder, salt, and pepper.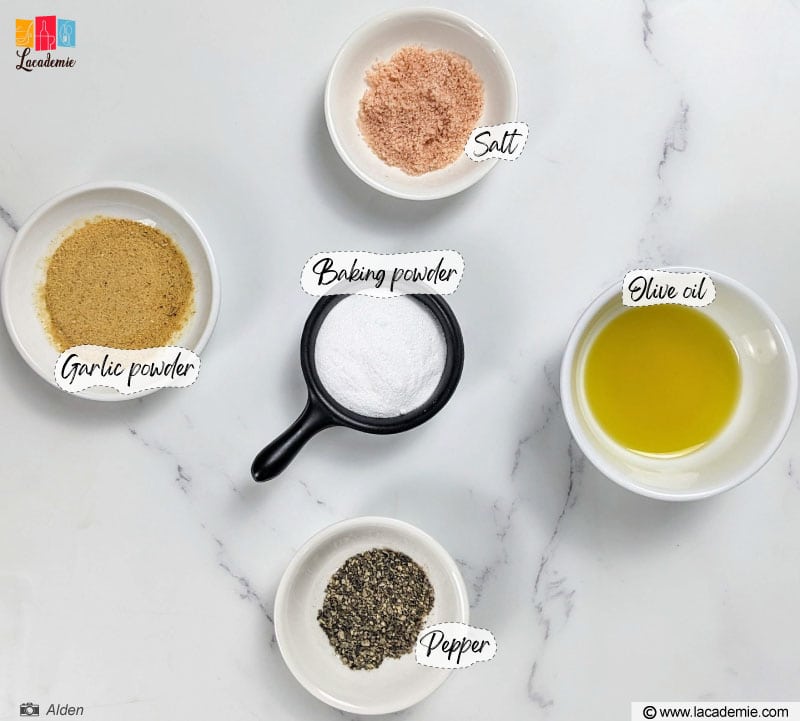 BBQ sauce: Use your favorite brand of BBQ sauce.
Honey buffalo sauce: Made from unsalted butter, Sriracha sauce, and honey.
Honey garlic sauce: A mixture of butter, honey, and minced garlic.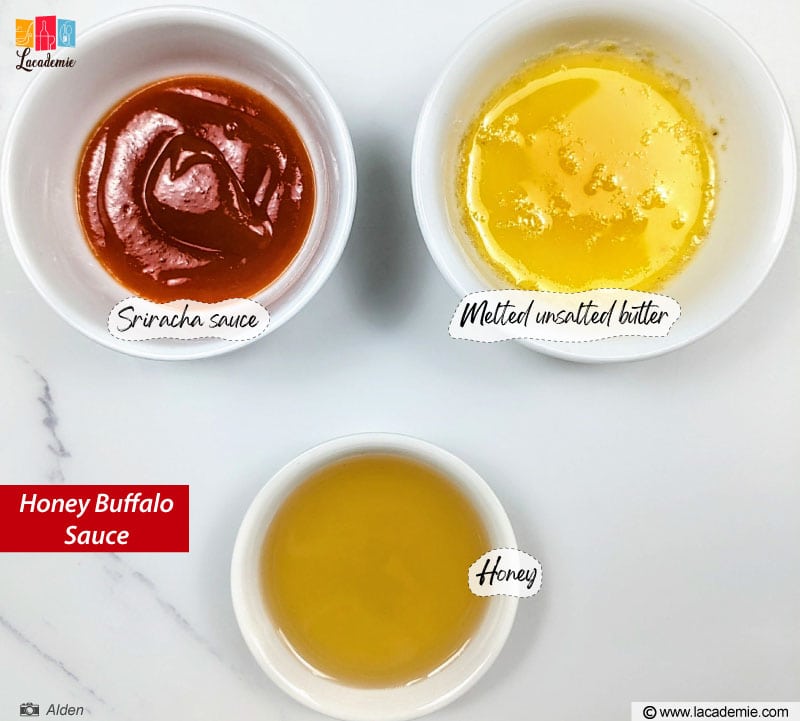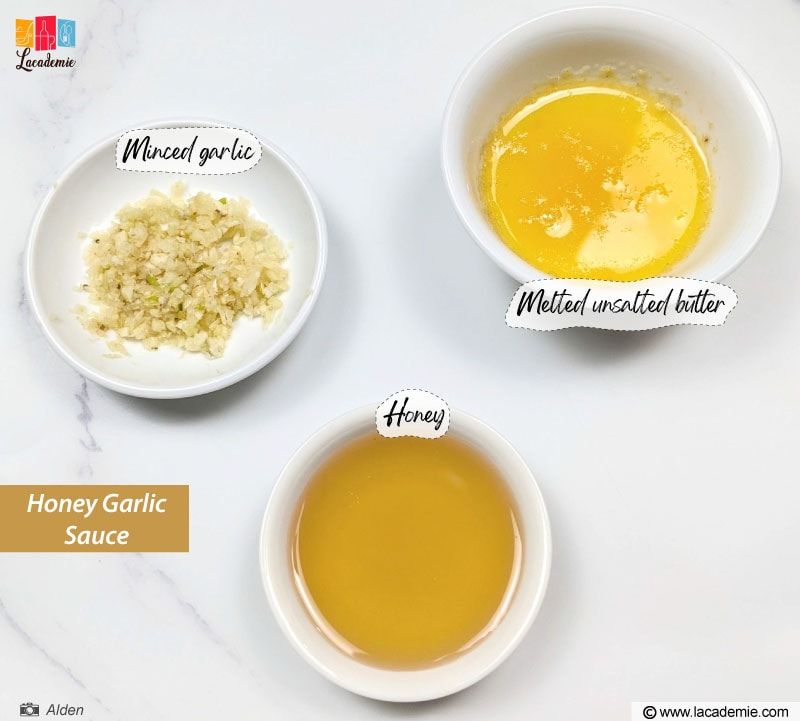 Directions
I won't let you wait anymore. Here's my secret recipe for the juiciest and crunchiest air fryer chicken wings.
Step 1: Cut And Season The Chicken Wings
First, wipe the chicken wings completely dry. Locate the joints and cut right into them to separate the wings into two parts: the drumettes and the wingettes.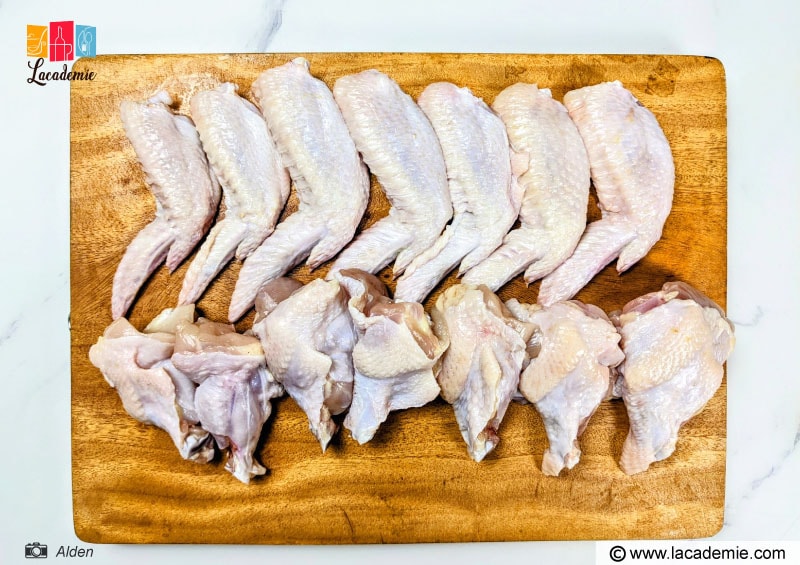 Put the wings in a large mixing bowl and season them with 1.5 tablespoons olive oil, 1.5 teaspoons baking powder, 1.5 tablespoons garlic powder, 1 tablespoon salt, and 1 tablespoon pepper. Toss well to coat.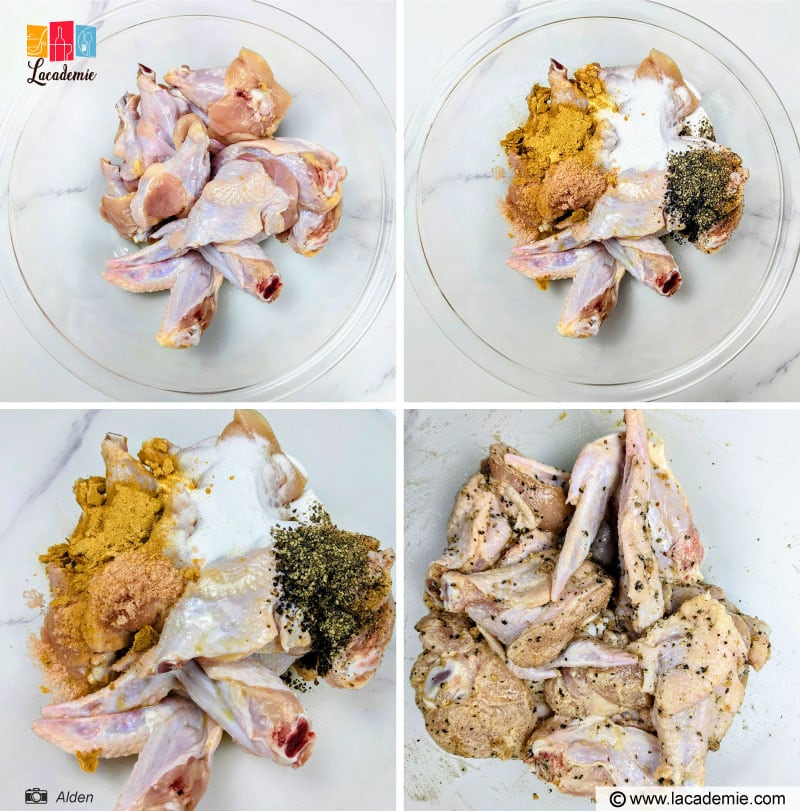 Step 2: Air Fry The Wings
Preheat the air fryer to 385 degrees F for 5 minutes. Then, spray a thin layer of cooking oil on the basket.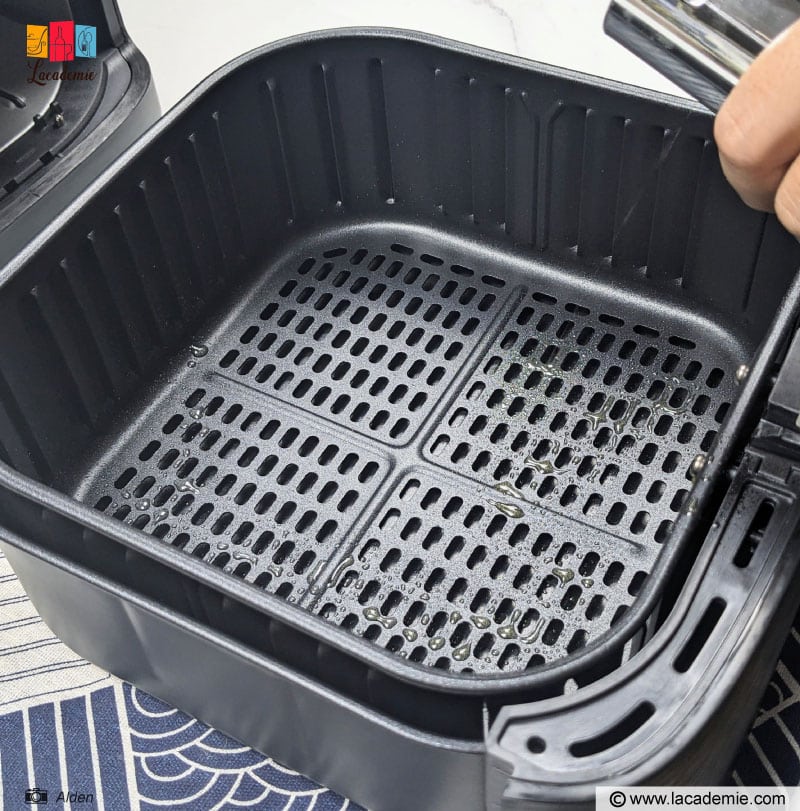 Place the seasoned wings into the basket. Don't add too many wings at once, or you might overcrowd the air fryer.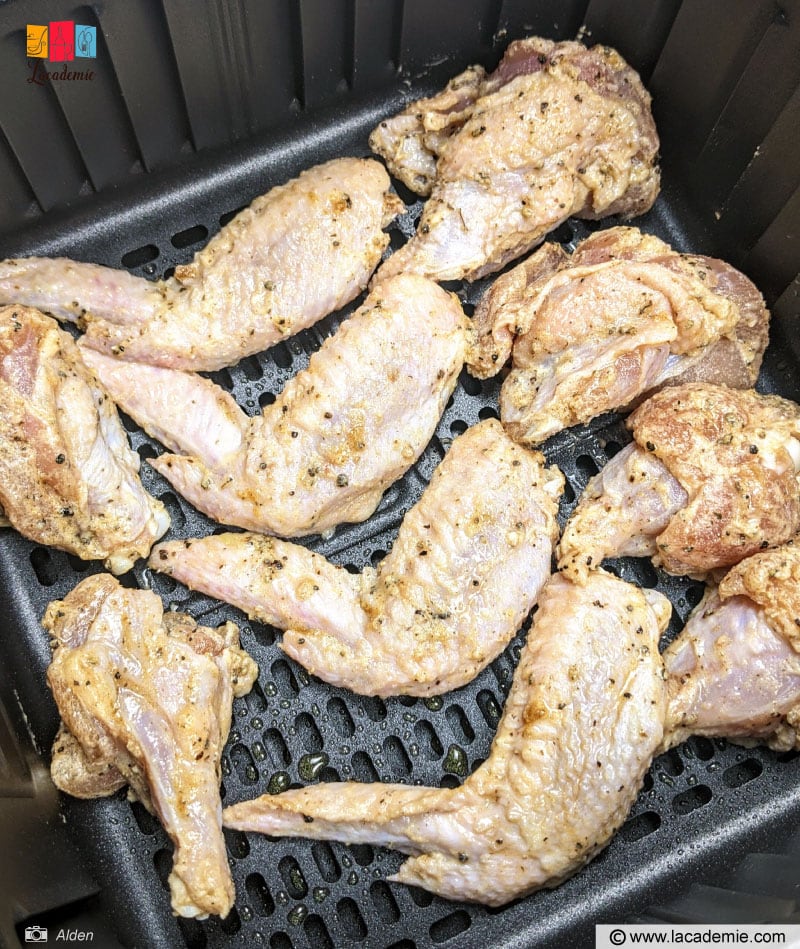 Select "chicken mode" and air fry the wings at 385 degrees F for 20 minutes. Use the tongs to flip the chicken halfway through cooking.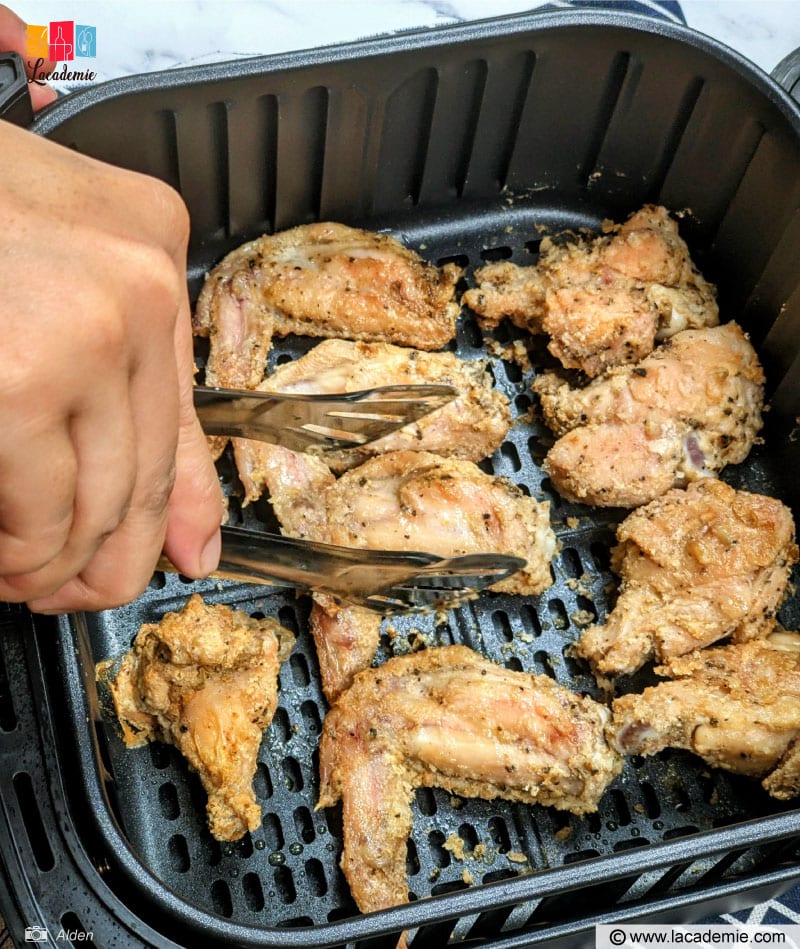 Continue air frying the wings at 385 degrees F for the remaining time. After 20 minutes, increase the temperature to 400 degrees F and cook the wings for another 5 minutes to crisp up their skins.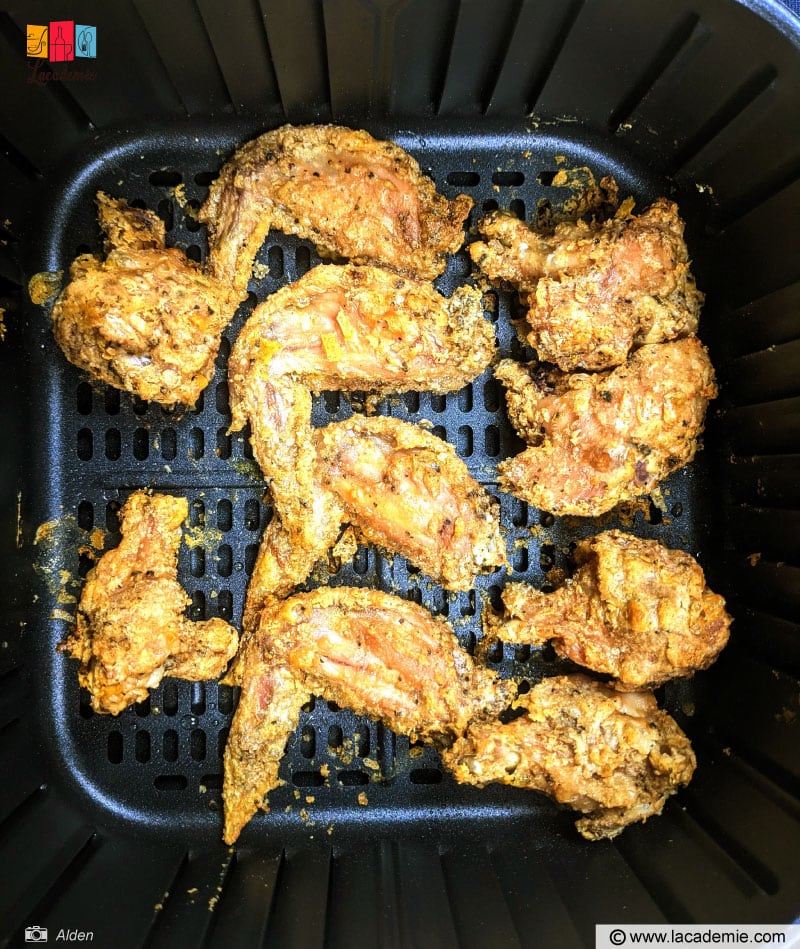 Step 3: Coat The Wings With Sauce
Remove the cooked chicken wings from the air fryer. You can pair them with the following sauces to improve their flavor.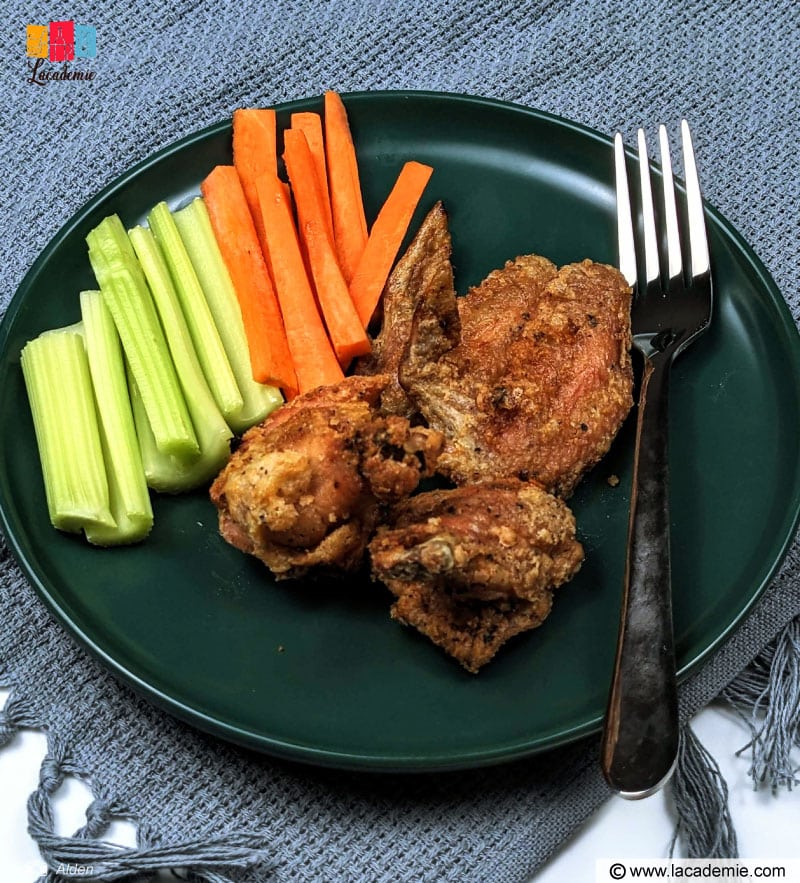 Option 1: BBQ Sauce
After cooking the chicken for 20 minutes, brush your favorite BBQ sauce on them on both sides. Next, air fry them for 2 minutes at 400 degrees F. Sprinkle some toasted sesame seeds on top.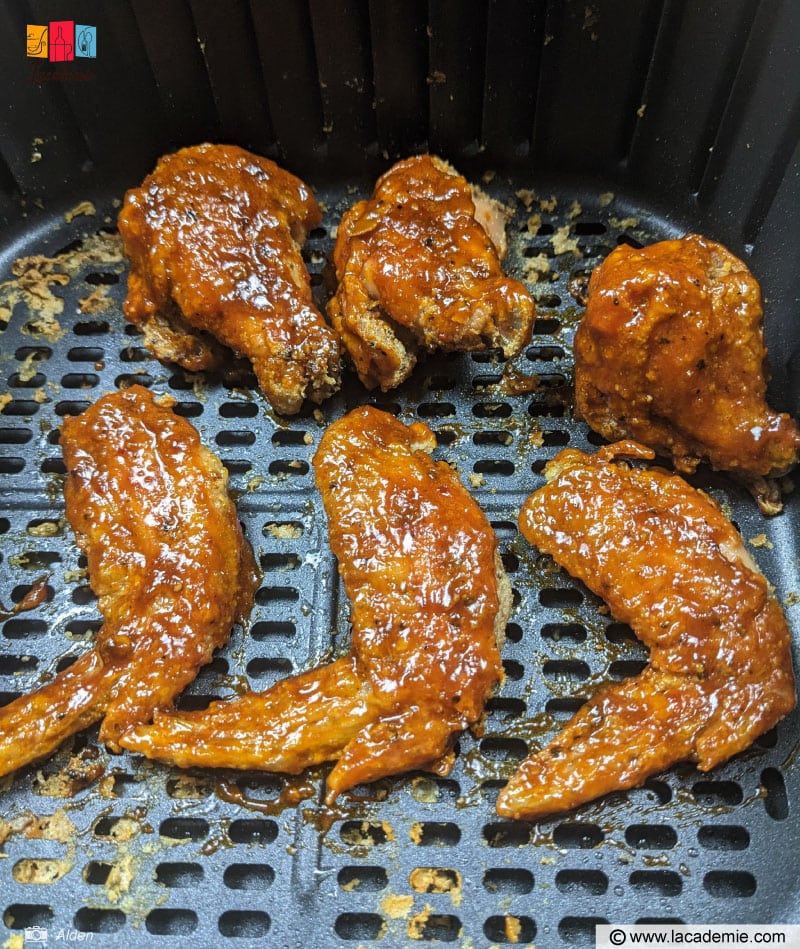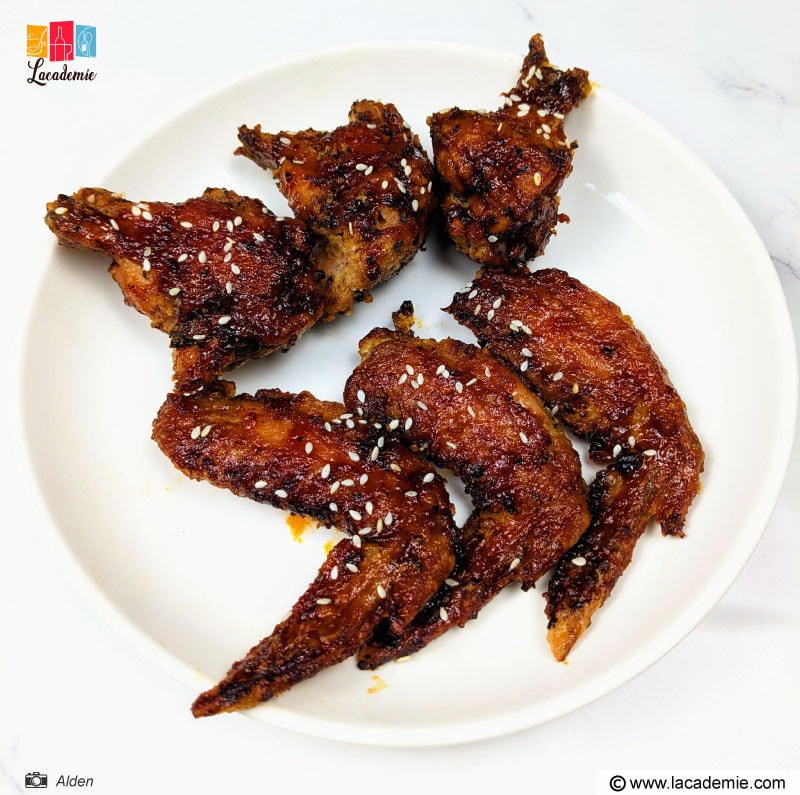 Option 2: Honey Buffalo Sauce
Combine 2 tablespoons of melted unsalted butter, 4 tablespoons of Sriracha sauce, and 1 tablespoon of honey to make the honey buffalo sauce. Pour the sauce over the chicken wings. Toss to coat.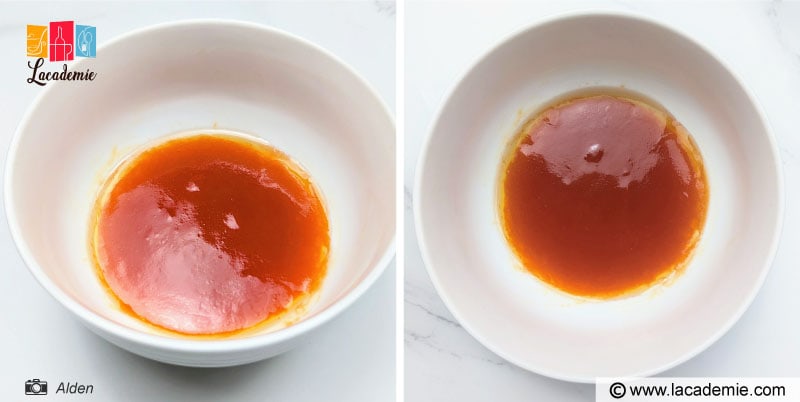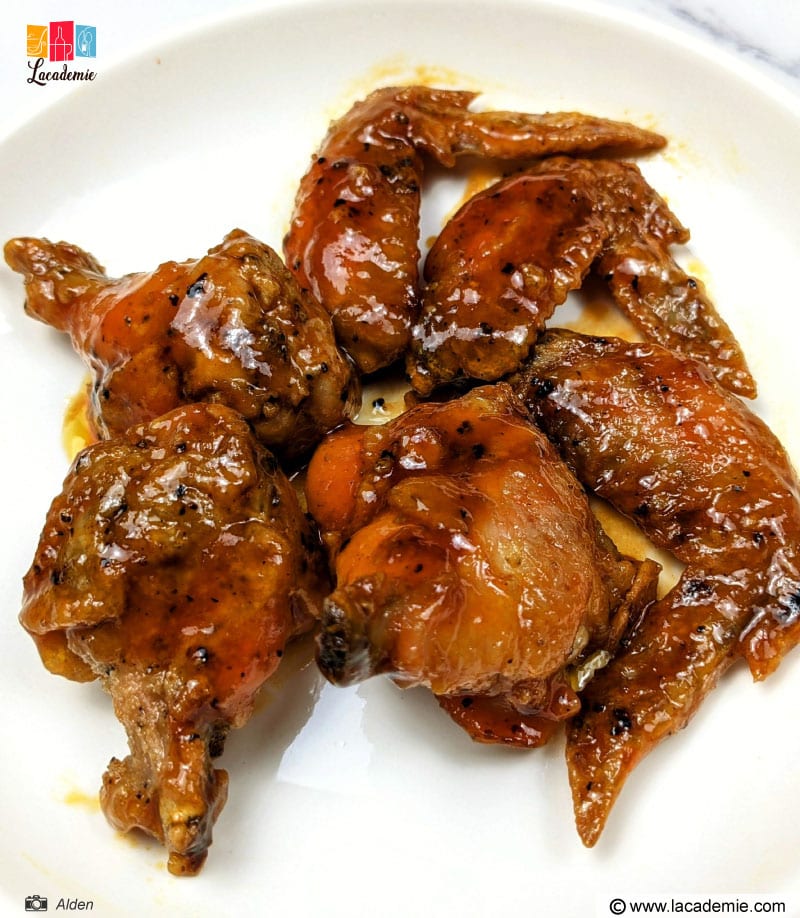 Option 3: Honey Garlic Sauce
Add 2 tablespoons of honey, 2 tablespoons of melted unsalted butter, and 2 tablespoons of minced garlic to a bowl and mix well. Pour the honey garlic sauce on the wings and toss to coat. Sprinkle some toasted sesame seeds or scallions on top.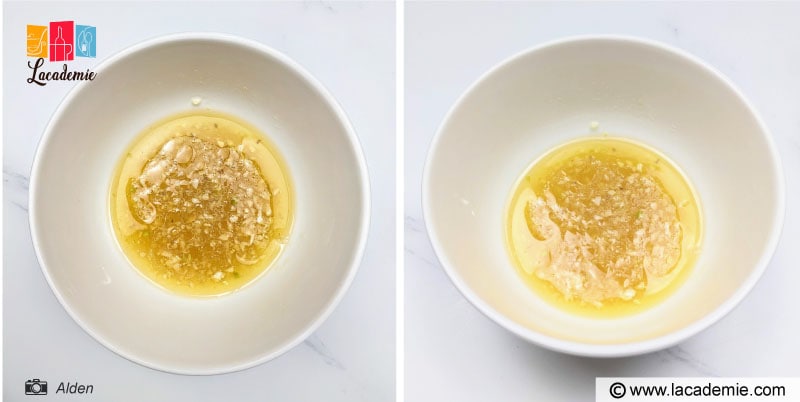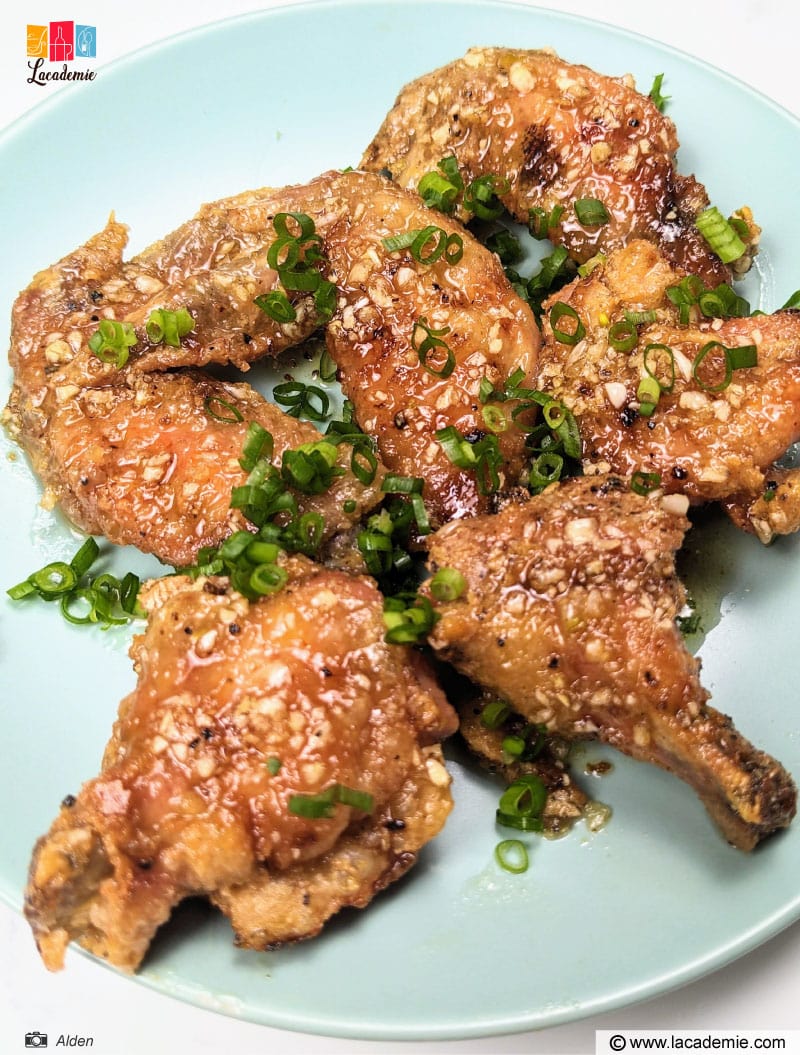 A Few Important Notes
Don't overlook the following notes just because the recipe is simple. Trust me; they'll come in handy.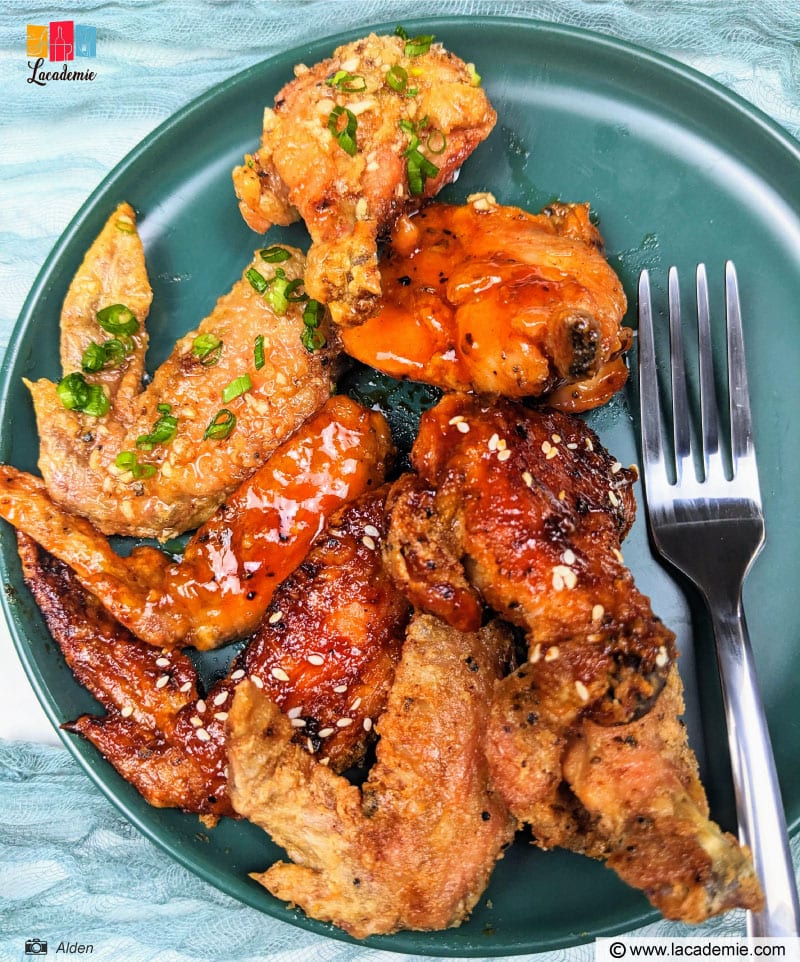 The size of the wings will affect the cooking time. Smaller chicken wings will cook faster.
Don't overcrowd the air fryer basket, or the wings won't cook evenly. Cook in multiple batches if necessary.
Feel free to customize the seasoning by adding your favorite spices.
Make sure that you pat the wings completely dry before seasoning them. Otherwise, they won't be able to absorb the spices fully. The moisture also causes the wings to lose their crispness.
You can buy chicken wings that have already been cut into wingettes and drumettes to save time.
The wing tips are edible, so you don't have to cut them off.
No More Greasy Chicken Wings
Air fryer chicken wings are an excellent recipe for people who want to eat healthier as they use very little oil. The best part is that there's virtually no difference in their crispness compared to other cooking methods.
The next time that you crave some delicious chicken wings, give today's recipe a go. I'm sure you'll be extremely pleased with the result. Please like and leave your thoughts on this post in the comment section. More importantly, don't forget to share it with others.
Nutrition Facts
6 servings per container
---
Amount Per ServingCalories467
% Daily Value *
Total Fat 22.1g

34

%
Cholesterol 168mg

57

%
Sodium 1750mg

73

%
Potassium 579mg

17

%
Total Carbohydrate 17.9g

6

%

Dietary Fiber 0.5g

0

%
Sugars 10.9g

Protein 49.2g

98

%
---
* The % Daily Value tells you how much a nutrient in a serving of food contributes to a daily diet. 2,000 calories a day is used for general nutrition advice.